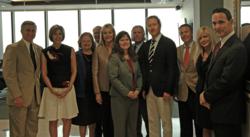 Over the last few years our business has continued to grow despite a slow economic recovery, requiring us to hire more employees and look for more space
(PRWEB) June 22, 2011
Mayor Jeri Muoio spent the morning visiting the brand new Corporate Headquarters of Shoes For Crews, LLC, located at 250 South Australian Avenue in downtown West Palm Beach. Shoes For Crews, the global leader in slip-resistant footwear, recently moved into its new 37,000 square feet office space. Continued expansion of workforce, with growth both domestically and internationally, fueled their relocation—and Mayor Muoio's visit.
"Over the last few years our business has continued to grow despite a slow economic recovery, requiring us to hire more employees and look for more space" said Matt Smith, CEO of Shoes For Crews. "We are very excited that the Mayor took the time to visit our new facility and discuss our company's success."
The Mayor was thrilled to learn of Shoes For Crews' plans to continue to grow locally, with continued penetration into Food Service, Healthcare, Industrial and Supermarket industries. Also in attendance: West Palm Beach Chamber of Commerce CEO Dennis Grady, Kelly Smallridge, CEO of Palm Beach County's Business Development Board, Kathryn Schmidt, CEO/President of Workforce Alliance, and other key executives.
About Shoes For Crews
Established in 1984, Shoes For Crews has served the needs of the Food Service, Industrial, and Healthcare communities with their top-rated, patented slip resistant outsole for over 25 years. Their Safety Program comes at No Cost to the Employer, and every pair is delivered with guaranteed comfort and durability, all backed by a best-in-class 60 Day "Wear and Compare" Guarantee and Free Exchange policy.
To learn more about Shoes For Crews slip-resistant footwear, please call 1-877-No-Slips (1-877-667-5477) or visit their website at http://www.shoesforcrews.com.
###