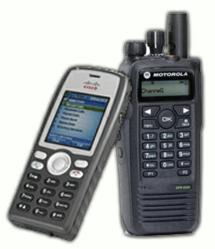 Daytona Beach, FL (PRWEB) June 23, 2011
Tel-Tron Technologies Corporation, a technology leader in the business of aging, further improves the efficiency and job satisfaction of caregivers by providing a single-device communications solution to senior living operators. By eliminating the burden on front-line caregivers to carry multiple communications devices, such as separate pocket pagers, two-way radios, and cordless telephones, Tel-Tron allows caregivers to handle all of their communications needs using just one device. With this innovative solution, caregivers are notified of resident emergencies, communicate with each other, answer an after-hours telephone line, and place 911 calls - all on the same device.
Leveraging technologies from companies such as Motorola and Cisco, Tel-Tron has developed this single-device solution which delivers text messages to the caregiver, enables two-way, on-premise communication, and provides inbound and outbound telephone capability. "We are very excited to be able to offer this breakthrough solution to our clients, helping them run a better enterprise by making caregivers more effective and efficient," says Tel-Tron CEO Brian Dawson. Several senior living operators have adopted this new unified communications technology, including Emeritus Senior Living, based in Seattle, Washington; Life Care Services, based in Des Moines, Iowa; and Leisure Care Retirement Communities, based in Seattle, Washington.
The radio-based unified communications devices are ruggedized to military specifications, and are water-submersible in up to one meter of water for thirty minutes, making this solution well-suited for busy caregivers who find themselves in a variety of situations and environments. The devices also contain GPS capability, which Tel-Tron plans to utilize as part of its strategy for selecting the closest caregiver to notify in case of emergency. The technical infrastructure of this solution also allows senior living operators to have wire-area/multi-site coverage utilizing IP-based connectivity.
###