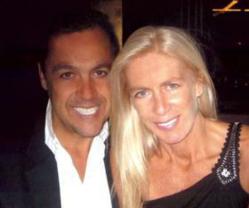 "We're so lucky to have been a part of the footwear industry for the past 30 years"
Waltham, MA (PRWEB) June 29, 2011
Two Ten Footwear Foundation has announced that footwear luminaries Sam and Libby Edelman have committed to establish a scholarship endowment to be named The Samuel and Louise Edelman Scholarship. The Scholarship will be established by January 2012, and the first scholar(s)will be selected for the 2012-2013 academic year.
Two Ten President, Peggy Kim Meill added, "What a wonderful gift Libby and Sam have made to Two Ten! They have such a strong desire to give back to an industry in which they have gained much success. We are honored to be the recipient of their philanthropy and proud to be associated with individuals who want to invest in the next generation."
"Libby and I are so thankful for what we have learned and achieved in our journey and we feel it's important to give back," said Sam Edelman. "We felt the best way to do that was to support Two Ten and the families of the industry that have supported us throughout our careers."
"We're so lucky to have been a part of the footwear industry for the past 30 years," said Libby Edelman. "So many of the relationships we've built go far beyond business – they have become like family… which is what the heart and soul of the Two Ten organization is all about. It's an honor to be able to give back to this special family in a meaningful way and help give the next generation the tools and opportunities to succeed."
Creative visionaries and legends in the footwear industry, Sam and Libby Edelman have been dominant forces in fashion, making an indelible impact on some of the most renowned contemporary footwear brands over the past 30 years. Since the launch of Sam's eponymous company in 2004, Sam and Libby Edelman have continued to create imaginative, trend-on, iconic, must-have shoes season after season, that are seen everywhere from the hottest fashion magazines to the soles of celebrities, capturing the attention of fashionable women worldwide. Sam was honored at this year's Two Ten Young Professional's (YP210) gathering on June 8, 2011 for his commitment to the industry and Two Ten.
Speaking on behalf of the Two Ten's Board of Directors, Carol Baiocchi, VP-DMM Footwear for Kohl's Department Stores said: "The impact of Sam and Libby's generous endowment will resonate for years to come, enabling students and their families to achieve their dreams, strengthening both our industry and beyond."
###