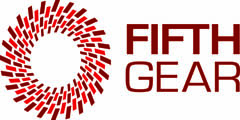 Indianapolis, IN (PRWEB) June 22, 2011
Fifth Gear, a provider of outsourced fulfillment services, contact centers, technology, and marketing services for ecommerce and catalog retailers, participated in the Internet Retailer Conference and Exhibition 2011 June 14-17 in San Diego, California. The three-day conference, the world's largest ecommerce event, hosted a record 7,300 attendees and over 500 exhibitors.
"Participation in IRCE benefits us as an exhibitor two-fold," says Steve Warren, Fifth Gear's vice president of business development. "Not only does it introduce the Fifth Gear brand to retailers, but it's also a great opportunity to build new relationships with other strong players in the ecommerce space." During the conference, Fifth Gear staff met with several of its strategic ecommerce partners: email marketing provider Bronto, search engine optimization firm Slingshot SEO, site search vendor SLI Systems, and FedEx, the company's premier freight carrier. The company later welcomed visitors to its exhibit booth for viewing of its newest fulfillment video.
Fifth Gear's participation also included a presentation by President Matt Konkle, who discussed the critical points for ecommerce retailers to consider when selecting an order fulfillment provider. "When you outsource, it's important for both the retailer and the fulfillment provider to be able to hear the voice of the customer to understand the true effectiveness of your operations," Konkle shared with conference attendees. "That's the best way to determine if everything is really functioning correctly." Tom Frenchu, Chief Information Officer of online retailer TABcom LLC, addressed attendees from the client's perspective.
Fifth Gear also plans to attend IRCE 2012, which will be held June 5-8, 2012 in Chicago.
About Fifth Gear
Fifth Gear (http://www.inFifthGear.com) provides outsourced order fulfillment, contact center services, ecommerce technology and marketing services to specialty retailers and manufacturers of consumer products. The Company serves as a single source partner to its clients, providing access to the industry expertise, infrastructure and technology they require to drive revenue growth. Fifth Gear is privately-held and headquartered in Indianapolis, IN. The Company serves over 100 ecommerce and catalog retailers today and continues to expand its portfolio of unique offerings for its multichannel retail clients.
###