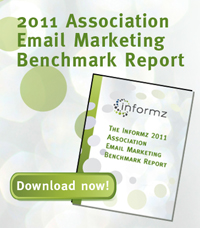 This report clearly demonstrates that when it comes to email open and click-thru rates, the relevancy and value of an email's content, trumps its timing.
(PRWEB) June 22, 2011
Informz, Inc., the leading email service provider for the association and nonprofit industries, released the results of its 2011 Association Email Marketing Benchmark Report. Among the key findings of the report, it was found that the timing of email campaigns had little effect on results, supporting the notion that relevancy of content has a greater impact, and that mobile email usage continues to rise, more than doubling in 2010. The full report is available at http://www.informz.com.
"Email marketing has become one of the primary ways that associations communicate with members," said Joe Tyler, CEO of Informz. "Yet we found that there was a lack of benchmark data available for member-based organizations to use to compare their email programs. This study fills that gap and provides associations with industry-specific metrics."
The report from Informz includes a summary of email marketing metrics collected from over 500 large and mid-sized associations that used the Informz email marketing platform in 2010. These associations, located in the United States, Australia, New Zealand, Canada and United Kingdom, sent over 400 million emails in 2010 consisting of newsletters, appeals, surveys, and event related emails.
"We've been in the email business since 1997 and by far, the most common question our eMarketing Advisors get asked is, What is the best day to send my email?" says Tyler. "This report clearly demonstrates that when it comes to email open and the click-thru rates, the relevancy and value of an email's content, trumps its timing. That's why at Informz we place such an emphasis on targeting and personalization."
The key findings of the report include:

The timing of email had little effect on open and click results. Day of week had less than a 1% difference in result among the days.
Tactics that affected the targeting and relevancy of content had the most significant impact on results. Smaller segments outperformed emails with larger target groups, with the smallest groups of under 50 recipients receiving an average open rate of 60%.
Event emails outperformed all other types of emails averaging a 40.73% open rate and a 15.46% click rate.
Appeal-based emails underperformed, receiving the least amount of opens and the most number of unsubscribes. Possibly meaning these emails often go to large groups, outdated lists and lack value to the recipient.
61% of emails were received and read using desktop email software, a number that decreased from the previous year, while web and mobile device usage increased.
Mobile readership of email has more than doubled in 2010, from 6% to 13%, with the iPhone being the dominate device being used.
Associations in this study achieved an email delivery rate above 95%, higher than the email marketing industry average high of 92%.
Medical industry associations outperformed other associations with an average 57.07% open rate on emails.
Informz will be presenting the findings from the benchmark report in a live webinar Wednesday, June 29th 2:00 – 2:30pm ET. To register, go to http://www.informz.com/resources/webinars/.
About Informz:
Informz is a leading provider of email marketing solutions that enable associations and nonprofits to easily and cost-effectively promote their brands, stay in touch, generate and analyze data about their audiences, manage information about their constituents, and receive valuable feedback to refine future action. In addition to email marketing solutions and services, the Informz product portfolio also includes text messaging, online survey tools, online voting, event registration, and database integrations. For more information, please visit http://www.informz.com.
# # #