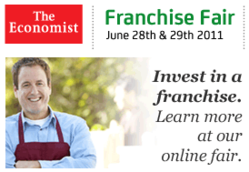 The event will feature dozens of franchisors and consultants and the opportunity to connect with them via chats and webinars.
Roswell, GA (PRWEB) June 21, 2011
FranchiseGator.com, the largest franchise opportunity web site, recommends The Economist's second annual Franchise Fair, a virtual tradeshow to help entrepreneurs research their franchise options.
The fair is a great tool for entrepreneurs to connect with Franchisors in the cloud. The event will feature dozens of franchisors and consultants and the opportunity to connect with them live via chats and webinars.
The Franchise Fair takes place on June 28th and 29th 2011. Registration is free, but space is limited so register in advance. The fair will model a "real" tradeshow and feature booths to gather information and live discussions.
Topics will include:

International Franchising: What to Look for when Purchasing a Franchise
Why Buy a Franchise?
Nationwide Mutual Insurance Company: An Opportunity for Entrepreneurs
Franchise Fair Live Sessions:
June 28: 9:00 AM EST to 1:00 PM EST
June 28: 4:00 PM EST to 8:00 PM EST
June 29: 12:00 PM EST to 4:00 PM EST
About Franchise Gator
Franchise Gator (http://www.franchisegator.com) a unit of Landmark Interactive, a division of Dominion Enterprises, is an internet-based franchise pay-for-performance marketing service established in 2001. Now in its tenth year of operation, Franchise Gator presents prospective franchisees with profiles of more than 1000 leading franchise opportunities and businesses from 100+ industry sectors. In turn, Franchise Gator provides franchisors with a quality, yet cost-effective, mode of franchise marketing. Franchise Gator is based in Roswell, Georgia.
About Online Fairs:
Online Fairs, a new business within The Economist Group, develops engaging virtual events as a new form of response advertising for marketers seeking quality lead generation. It creates online representations of tradition trade shows, providing all the benefits of a physical tradeshow, but with the added benefit of the scale and accountability of the internet. Events will focus on a variety of subjects including education, investment and recruitment sectors, as well as client-specific topics particularly in the technology industry. In addition to creating engaging and interactive events, Online Fairs offers turnkey event solutions covering all aspects of event production and content - including attendee acquisition.
# # #