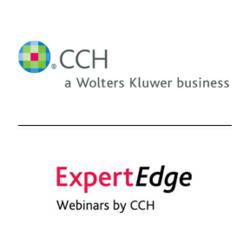 With all of the recent changes to sales tax rates and factors, and the introduction of the RITC requirements in Ontario and British Columbia, it is extremely important for organizations to review their employee expense reimbursement processes...
Toronto, Ontario (PRWEB) June 21, 2011
Each and every day employees are incurring expenses on behalf of their employers. CCH Canadian is now offering a new audio seminar for tax professionals called "Employee Expense Reimbursement: Practical Strategies for Compliance" to help sort through all of the issues and complexities employers face when processing the reimbursement requests in a timely way, while making sure tax issues are managed correctly. The seminar will be held on June 29, 2011 at 12:00 P.M. Eastern Time. ExpertEdge, Webinars by CCH Canadian is the premier organizer of this audio seminar (http://www.cch.ca/ExpertEdge).
Over any given year, the total of these expenditures and the associated sales tax obligations can be significant. Properly accounting for these transactions can be a challenge as the documentation supporting these purchases is often lacking and the myriad of tax rules that applies to expense reimbursements can be difficult to navigate. At the same time, an employer usually wants to process these reimbursements as quickly as possible to keep employees happy and to fully compensate them for making purchases on behalf of the company. With all this in mind, it is not unusual for a business to miss opportunities to recover the tax paid or to recover the incorrect amount of tax in relation to these expenses.
The new CCH Canadian audio seminar shares practical strategies for tax professionals regarding employee expense reimbursements.
This two‐hour session scheduled on June 29, 2011 at 12:00 P.M. Eastern Time will analyze the GST/ HST and QST consequences of employee reimbursements and allowances in detail, with a particular emphasis on the documentary requirements and specific restrictions that pertain to many of these expense reimbursements. Practical advice will be provided on how to take advantage of the administrative policies that are in place to assist organizations that may be struggling to comply with various rules for these transactions.
The webinar features two expert speakers, including Jim Day, CA, Director of Tax Advisory Services from the Tax Advisory Group of Ryan.
"With all of the recent changes to sales tax rates and factors, and the introduction of the RITC requirements in Ontario and British Columbia, it is extremely important for organizations to review their employee expense reimbursement processes – both to minimize potential liability exposure and to maximize the recovery of tax," said Day.
Program Agenda
Topics covered in this webinar are:

A review of the rules that allow organizations to recover tax on employee reimbursements;
Discussion of the documentary requirements that must be met before a recovery of tax will be permitted on these transactions;
An overview of the unique restrictions that may apply to expenses that are typically reimbursed to employees, including the requirement to recapture the provincial component of the HST on certain expenses in Ontario and British Columbia;
Discussion of the role that simplified factors can play in streamlining the processing of expense reports and easing some of the administrative burden faced by organizations recovering tax on these expenditures;
Clarification of the many unique QST rules that may impact the processing of expense reports and some related purchases in Quebec; and
A brief discussion concerning what businesses may expect when these transactions are reviewed under audit and the consequences of failing to comply with the many rules and policies in place for these disbursements.
About the Speakers
Jim Day, CA, Director of Tax Advisory Services, Ryan
In his role as Director, Jim is responsible for overseeing the delivery of professional services to clients throughout North America and monitoring the evolution of commodity tax legislation and administrative policy. Jim is also the editor of the firm's publications, including CCH's Value‐Added Taxation in Canada: GST, HST and QST, and a frequent contributor to various other commodity tax publications. Jim has presented numerous sales tax seminars to a diverse group of clients, as well as industry and professional associations, and is a frequent speaker at commodity tax events, including the CICA's Annual Commodity Tax Symposium.
Jeffrey Shaw, CMA, Manager, Tax Advisory Services in the Tax Advisory Group, Ryan
Jeffrey Shaw is the Manager of the Tax Advisory Services at Ryan, North America's largest independent commodity tax consulting firm. Current responsibilities focus on providing commodity tax advice and guidance to clients throughout North America, including active involvement in client audit defense engagements. Jeffrey frequently prepares and delivers customized seminars on various Canadian commodity tax topics, including Value‐added Taxation in Canada, Sales Tax Audit Best Practices and Planning for the HST in Ontario and British Columbia. In addition, Jeffrey has also been responsible for developing web‐based learning modules on Ontario Retail Sales Tax and how to handle a commodity tax audit. In his 26‐year career, Jeffrey has gained extensive experience in dealing with commodity tax issues in the health care, financial services, consumer and industrial electronics, waste management and computer hardware and software industries.
Special Summer Promotion
As part of ExpertEdge's summer promotion, anyone who registers by June 28, 2011 at 1:00 PM Eastern will receive $20 off the regular price of $149. For only $129, participants will have full access to the webinar!
How the Webinar Works and What It Includes
CCH Canadian's audio seminars require nothing more than a high speed internet connection. Registration to the webinar includes the ability to download the recording and access it unlimited for thirty days. It also includes a PDF version of the presentation slides and a certificate for attending the session. There will be a chance to interact through the online question and answer period.
Professional Development Credits
CCH Canadian professional development programs are designed to meet the continuing education requirements of a variety of professional associations. These requirements do vary by association and region. Please consult your provincial association to ensure this webinar meets the continuing professional development standards for your specific situation.
How to Register
To register online using a credit card, go to http://www.cch.ca/Expense. To register by phone, call CCH Customer Service at 1‐800‐268‐4522. For more information, go to http://www.cch.ca/ExpertEdge.
About CCH Canadian Limited
CCH is Canada's premier provider of authoritative compliance software, research and practice tools for accounting, legal and business professionals. CCH Canadian produces software and information products that help customers take command of complex regulatory issues in tax, accounting, law, financial planning and human resources. CCH (http://www.cch.ca) is a Wolters Kluwer business (http://www.wolterskluwer.com).
Wolters Kluwer is a market‐leading global information services company. Wolters Kluwer is headquartered in Alphen aan den Rijn, the Netherlands. Its shares are quoted on Euronext Amsterdam (WKL) and are included in the AEX and Euronext 100 indices.
###