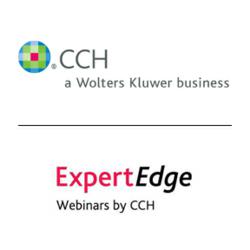 Toronto, Ontario (PRWEB) June 21, 2011
The Harmonized Sales Tax was implemented in the provinces of Ontario and British Columbia on July 1, 2010. With it, a great deal of new legislation and regulations were enacted that significantly changed the way our transactions are being taxed. CCH Canadian is now offering a two‐hour webinar: "An HST Issues Update – One Year Later" (http://www.cch.ca/HSTUpdate), scheduled on Tuesday, June 28, 2011 at 12:00 P.M. Eastern Time. The timely, cost‐effective seminar will focus on the issues faced by taxpayers in applying the HST in BC and Ontario and the audit issues that Canada Revenue Agency (CRA) is focusing on.
Additionally, the program will look at the future of HST in light of the referendum that is taking place in BC. It will also look at the issues that taxpayers have faced and the reaction and response of the Department of Finance and CRA to those issues that Taxpayers have raised. CCH, a Wolters Kluwer business is the global leading provider of tax, accounting and audit information, software and services (http://www.cch.ca). ExpertEdge, Webinars by CCH Canadian is the premier organizer of this audio seminar (http://www.cch.ca/ExpertEdge).
Program Agenda
Topics covered in this webinar are:

Transitional rules
Place of supply rules including imports and exports:
To/ From Canada
Within Canada
RITCs (Recapture of ITC)
Pension Rules
SLFI rules
About the Speakers
Beverly Gilbert, CA and Camille Kam from the Commodity Tax Experts team from Borden Ladner Gervais LLP will be presenting in this webinar.
Beverly Gilbert is a seasoned tax planning advisor with twenty years of experience exclusively in commodity taxes including eight years as a Senior Auditor and Technical Interpretation Officer with CRA. Beverly speaks frequently at conferences and seminars on sales tax issues.
Camille Kam works on issues pertaining to corporate and commodity taxation. She regularly provides advice to a broad array of clients on Canadian sales tax matters. In 2009, Camille was on secondment with the Corporate and Commodity Taxation Branch of the Office of the Budget and Taxation at the Ontario Ministry of Finance. While at the Ministry of Finance, she assisted with policy formulation and legislative design in respect of the transition to harmonized sales tax and other corporate and commodity tax measures.
Special Summer Promotion
As part of ExpertEdge's summer promotion, anyone who registers by June 27, 2011 at 1:00 PM Eastern will receive $50 off the regular price of $149. For only $99, participants will be able to access the webinar.
How the Webinar Works and What It Includes
CCH Canadian's audio seminars require nothing more than a high speed internet connection. Registration to the webinar includes the ability to download the recording and access it unlimited for thirty days. It also includes a PDF version of the presentation slides and a certificate for attending the session. There will be a chance to interact through the online question and answer period.
Professional Development Credits
CCH Canadian professional development programs are designed to meet the continuing education requirements of a variety of professional associations. These requirements do vary by association and region. Please consult your provincial association to ensure this webinar meets the continuing professional development standards for your specific situation.
How to Register
To register online using a credit card, go to http://www.cch.ca/HSTUpdate. To register by phone, call CCH Customer Service at 1‐800‐268‐4522. For more information, go to http://www.cch.ca/ExpertEdge.
About CCH Canadian Limited
CCH is Canada's premier provider of authoritative compliance software, research and practice tools for accounting, legal and business professionals. CCH Canadian produces software and information products that help customers take command of complex regulatory issues in tax, accounting, law, financial planning and human resources. CCH (http://www.cch.ca) is a Wolters Kluwer business (http://www.wolterskluwer.com).
Wolters Kluwer is a market‐leading global information services company. Wolters Kluwer is headquartered in Alphen aan den Rijn, the Netherlands. Its shares are quoted on Euronext Amsterdam (WKL) and are included in the AEX and Euronext 100 indices.
###