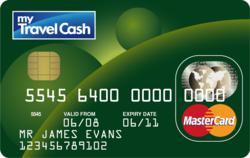 By removing ATM fees my Travel Cash customers can use cash machines abroad safe in the knowledge that they will not be hit with ATM charges
London (PRWEB UK) 22 June 2011
Savvy travellers can feel confident when they pull out the plastic on holiday this summer as my Travel Cash has announced it is scrapping ATM withdrawal fees as well as giving customers 1% unlimited cashback on all purchases.
The 1% cashback rewards all cardholders, whether they use the card regularly or not. Earned on all purchases and paid directly to the prepaid card account every month, the amount earned is only limited by how much the cardholder spends - no hidden tricks or complicated rules just great value, commission-free travel money.
By removing ATM fees, my Travel Cash customers can use cash machines abroad safe in the knowledge that they will not be hit with ATM charges. For example, using the Euro card to make a withdrawal in Euros could save them up to £4.75 on a typical withdrawal of £100, compared to using a debit or credit card. The same applies for customers using the US Dollar card to withdraw US Dollars abroad.
Research conducted by my Travel Cash in 2010 revealed that half of travellers worry about overspending on their holiday, with one in ten so concerned that it ruins their break. Removing ATM fees helps cardholders avoid carrying large sums of cash just to avoid paying ATM fees and the 1% cashback enables their holiday money to go even further.
The prepaid currency cards are available in Euros, US Dollars and Sterling Multi-Currency card. With the Euro and US Dollar cards simply choose how much currency to buy and my Travel Cash loads it on to your card, always at a competitive rate. Purchases made in the card's currency are free plus cardholders will now earn 1% cashback.
The Multi-Currency card is loaded in Sterling and is perfect for those requiring multiple currencies during their travels. At 2.99% it applies the same foreign currency charge as most credit and debit cards but with the added advantages of no additional ATM or transaction fees plus 1% cashback on all purchases.
The pay-as-you-go currency cards do not require a credit check, simply complete a short online application to verify your identity. Express Delivery ensures your card arrives within 1-2 working days and is ideal for those travelling in less than a week. Holidaymakers simply top up their card before they travel or while they are away via the secure http://www.myTravelCash.com website. Spending can be easily tracked with online statements available on the website and by mobile using the SMS balance and transaction services.
Chip & PIN protection, no link to a customer's bank account and 24/7 Lost & Stolen reporting means customers can trust my Travel Cash to provide a secure, convenient and cost-effective way to spend money abroad.
The cards can be used at over 32 million merchants and any of the 1.5 million ATMs worldwide that display the MasterCard Acceptance Mark.
For customers who still prefer to purchase foreign currency or perhaps take some cash with their new card, my Travel Cash also provides a Currency Home Delivery Service for 20 popular currencies.
my Travel Cash is delivered by CorporatePay, one of the market leading prepaid card providers.
For further editorial information or to request hi-res images and samples, please contact Jaime Markey or Francesca Gaffey @ JAMpr Ltd:
Tel: 0161 850 0565 / 0161 850 9595
E: jaime(at)jampr(dot)co(dot)uk / francesca(at)jampr(dot)co(dot)uk
Notes to Editor:
The my Travel Cash card is delivered by CorporatePay, one of the market leading prepaid card providers.
About CorporatePay

CorporatePay delivers market leading corporate and consumer prepaid card programmes. Combining extensive payment industry knowledge with deep travel sector expertise CorporatePay has a designed a range of inbound and outbound travel currency solutions denominated in multiple currencies to meet the needs of business and individual users.
CorporatePay's standard travel currency solutions include my Travel Cash for individual travellers and its Corporate Expense Card for business users (http://www.corporateexpense.com/). The standard solutions are available for distribution by referral and affiliate partners providing ancillary revenue opportunities with minimal, if any, investment.
CorporatePay is able to deliver bespoke white label led travel card programmes for clients wishing to extend their brand and service to deliver ancillary revenue opportunities and a platform to maintain strong customer relationships through the ongoing use of the data and interaction available through the card programme.
CorporatePay provides its clients fully managed prepaid card solutions including; programme design, account opening, funding services, fraud management, card processing, card production, customer service, and management information for corporate clients, partners and resellers.
CorporatePay is a MasterCard Member Service Provider (MSP) and is registered as an Independent Sales Organisation (ISO) and Third Party Processor (TPP).
For further information, please visit: http://www.corporatepay.co.uk
MasterCard® is a registered trademark of MasterCard International Incorporated. The my Travel Cash prepaid MasterCard is issued by Newcastle Building Society ("NBS") pursuant to license by MasterCard International Inc. NBS is authorised & regulated by the Financial Services Authority as an issuer of e-money (registration no 156058).
About Newcastle Building Society Card Solutions
Card Solutions offers BIN sponsorship, card issuance, settlement services and complete regulatory compliance. It is currently ranked as the largest provider in UK and Europe by MasterCard on monies settled, and seventh globally on MasterCard prepaid network, with over 200 live schemes. It has over 1.4 million of its issued cards active month on month settling over $1.9 billion annually. The Society is a MasterCard Principal Member, with the most MasterCard approved prepaid programmes in the UK.
###