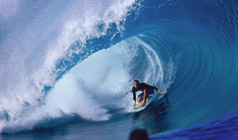 I am really excited to be involved with CrossCore.
They have allowed me to develop some amazing new routines and workouts for surfing that will not only be of tremendous benefit to my coaching, but will also keep me ripping for the next 20 years. Shane
Duarte, CA (PRWEB) June 22, 2011
Shane Beschen will serve as a Master Trainer and Sports Ambassador for CrossCore in the realm of Surfing and other Action Sports. He will work with the CrossCore team to customize and design a specialized workout and fitness programs to help athletes in all types of sport. Shane is a former top ranked Association of Surfing Professionals (ASP) Competitor and is now a dedicated coach who trains the future champions of Surfing.
The CrossCore War Machine® distinguishes itself with a rotating pulley at the suspension point of the ropes, which can be locked for a stabilized workout or unlocked by pulling the pin to allow more movement to mimic sports movements adding balance and agility to one's training.
Beschen has been called by some in the Surfing industry a "God Father of modern day surfing competition tactics and judging." Early on in his career where he competed with the likes of Kelly Slater and others, Shane promoted using aerials and high risk maneuvers in competitive surfing. While he was ahead of his time then, this is now part of norm in every Surfing competition around the world. Beschen brings that same innovative forward thinking to his Coaching and to CrossCore. During his storied competitive career, Beschen was also the first ever Professional Surfer to post perfect scores in an ASP Tour event, a feat only matched once since that time.
"The fluidity of the War Machine when you "Pull the Pin" creates true body awareness as you control every centimeter of movement with combined strength and flexibility. I am really excited to be involved with CrossCore.
They have allowed me to develop some amazing new routines and workouts for surfing that will not only be of tremendous benefit to my coaching, but will also keep me ripping for the next 20 years," said, Shane Beschen, professional surfing champion, Surfing Fitness trainer and coach.
The War Machine is commercial grade and was originally designed for Military training, Mixed Martial Arts and Action Sports. CrossCore products offer benefits in all sports including Surfing, Snowboarding, MotoX, Baseball, Basketball, Football, Soccer, and down the list. It is the new fitness equipment system that gives one the sports performance training to Turn Your Game Around™ in just weeks.
"I have been involved with top athletes in Surfing and Action Sports at Vans Shoes, Osiris and throughout my career. Shane is one of the most inspirational athletes and mentors in the sport. He has quickly seen the amazing benefits our products offer athletes. Shane recognized that rotational movement brings surfers benefits that increase their performance skills and water strength. We repeatedly hear athletes say of our products 'This Changes everything'. We are very pleased to have Shane and his expertise on board to lead the way in Surfing and Action Sports," said Jay Wilson vice president, Global Marketing, CrossCore, Inc.
CrossCore, Inc. is a manufacturer of advanced "Rotational Bodyweight Training" products and accessories. Its one-of-a kind patent pending pulley systems adds rotational movements to continuously engage the core and the entire body to create highly effective training techniques. Additionally, Crosscore products offer high versatility in fitness training with the addition of accessories including kettlebells, rings, straps, and sandbags to deliver peak conditioning opportunities. CrossCore allows all levels and ages of users- fitness enthusiasts, sports performance athletes, military personnel, mixed martial artists and more- to safely challenge themselves and to actively grow their fitness goals. CrossCore's rotate to engage products are distributed in the U.S. and Internationally.
For more information please go to http://www.crosscore-usa.com or contact Jay Wilson at http://www.jay(at)crosscore-usa(dot)com
###