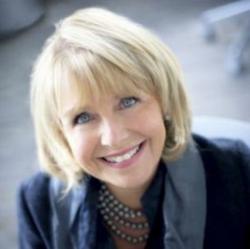 Boston, MA (PRWEB) June 22, 2011
The Return on Involvement leadership innovator with more than 40 years of experience – Interaction Associates – has named Linda Stewart as the company's new president and CEO.
Interaction Associates provides consulting, training, and coaching services to develop collaborative work cultures and leaders at all levels: leaders who engage employees to share responsibility for delivering strong business results.
Stewart succeeds Linda Dunkel, who served as president and CEO since 2002, and will continue as a senior consultant and leader of the firm's consulting practice.
"Linda Stewart brings an extraordinary range of experience to the top job at IA – especially as we deepen our focus on innovative global leadership development," said Jamie Harris, Chairman of the Board of Directors at Interaction Associates. "Linda's leadership skills and extensive experience in a range of demanding environments make her the right person to expand Interaction Associates' success in global markets, where the firm has shown significant potential," added Harris.
Stewart has more than 25 years' experience in senior executive level positions, building, improving and leading profitable companies in fast-paced environments globally. Linda was president and senior executive leader of several divisions of Fidelity, one of the world's largest financial services companies, where she successfully drove business strategy development and deployment, revenue generation, operational excellence, and financial reporting.
"Linda is one of those leaders who understands what it takes to drive both collaboration and results – and she will take our organization to its next level of development as a strong, metrics-driven leader," said Linda Dunkel, who won the Winning Workplace Best Boss Award while at the helm of Interaction Associates in 2006. "She will be instrumental in building on our four-decades track record of consistently developing high-performing, collaborative leaders inside client organizations – leaders who know how to get results through people," added Dunkel.
Stewart joins IA from her role as founder and CEO of EPOCH, a firm devoted to helping companies meet their goals by hiring highly effective short-term and part-time executives. Previously she was COO of Veritude, an organization delivering workforce and staffing solutions to Fidelity Investments and other large commercial entities. She served as President of ActionsXchange, EVP of National Charitable Services, and EVP of BostonCoach Corp. Stewart also was SVP for Fidelity International, LTD. and Fidelity Service Company, as well as working for the Boston Company, Boston Financial Data Services, Time, Inc. and KMPG. Stewart holds a degree from University of Pennsylvania's Wharton School.
"Interaction Associates' legacy is impressive and the firm's commitment to ROI for clients is key," said Linda Stewart. "And by that we mean ROI – Return on Involvement™ -- helping clients build leadership capacity and collaborative cultures that get and keep people deeply engaged in achieving and sustaining business success," added Stewart.
About Interaction Associates
Interaction Associates (IA) is a 40-year innovator of leadership development through consulting, training, and coaching services. IA's advanced methods empower leaders to build trust, engage employees, and foster collaboration to drive strong business results to more than 1/3 of the Fortune 500. IA's proprietary research shows that the "Return on Involvement" of employees yields measurable business results. In 2011, IA was named to Training Industry's Leadership Companies Watchlist of top innovators in the leadership field http://bit.ly/hw///Phy.
IA has global delivery capability with corporate offices in Boston and San Francisco. More information is available at: http://www.interactionassociates.com.
This press release was distributed through PR Web by Human Resources Marketer (HR Marketer: http://www.HRmarketer.com) on behalf of the company listed above.
###