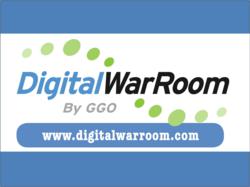 The Digital WarRoom vision has always been the 'mainstreaming' of
e-discovery. Advanced tools and a commonsense business model are vital elements of the vision."
Seattle, WA (PRWEB) June 21, 2011
Gallivan Gallivan & O'Melia (GGO), creators of the Digital WarRoom platform for accessible, affordable e-discovery, today announced the release of Digital WarRoom WorkGroup, the first end-to-end e-discovery system that eliminates the need for external pre-processing of collected data to prepare it for review.
Digital WarRoom WorkGroup is a cost-controlled, collaborative end-to-end e-discovery solution for corpora¬te legal teams and law firms facing litigation and government investigations.
Created on the robust Digital WarRoom e-discovery platform, WorkGroup is a multi-user applica¬tion that performs data ingestion, processing, data assessment and analysis, document review, annotation, and production to opposing counsel – all in a single application.
"E-Discovery is entering a new era," said Bill Gallivan, CEO of Gallivan Gallivan & O'Melia, creators of the Digital WarRoom platform. "The perfect storm of rapid ESI growth, increasing litigation, and growing adoption of e-discovery rules among state and local jurisdictions is driving a demand for standardized tools that are affordable and accessible to law firms and corporate organizations. The vision of GGO has always been the 'mainstreaming', if you will, of e-discovery. Advanced tools and a commonsense business model are vital elements of the vision."
The traditional industry business model in e-discovery rests on volume-based fees, recently in the range of $200-350 per GB, to extract meaningful document content from bulk collections of electronically stored information (ESI) collected from custodians. WorkGroup turns that model on its head, with the integration of powerful processing, extraction, de-NISTing, de-duplication and indexing. As a result, the corporation or law firm using WorkGroup will have the advantages of a single end-to-end solution, complete control over the chain of custody for documents, and will significantly reduce time and cost required to respond to an e-discovery request.
Bill Gallivan outlines a simple example: In a matter with 10 custodians and 800GB of data, processing by a traditional vendor, at $200 to $300 per GB would result in $160,000 to $240,000 in processing fees. Each new matter would require a similar investment in processing fees to a pre-processing service provider. On a caseload of 10 similarly sized matters over the course of a year, using outsourced processing, a corporation or law firm could incur well over $2 million in processing fees alone.
With Digital WarRoom, a corporate law department or law firm can implement WorkGroup for a year on a perpetual license, and 10 reviewer licenses, at an investment under $15,000. Once implemented, WorkGroup could easily support the 10 matters as described in this example, with no additional processing fees, and no extra processing time or risk in moving data between outside vendors, potentially realizing a cost savings of 90% over traditional vendor pricing.
The move from an outsource model to an in-house e-discovery process involves learning curve. "We understand that many firms adopting WorkGroup will not have deep experience in ESI processing, but have a strong desire to build expertise and take control of e-discovery," said Jim VanderMeer, Vice President of Products and Services for GGO. "For these clients, GGO also offers an implementation and training package to assist teams in becoming familiar with the tools and establishing e-discovery best practices."
The WorkGroup application scales to support very large review teams. Case files, including attorney work product, may be saved as a matter archive that migrates easily to the Digital WarRoom Pro desktop product, or to a full-service Digital WarRoom Remote hosted review.
The Digital WarRoom team of e-discovery experts holds weekly webinar introductions to the Digital WarRoom platform and features in WorkGroup and Pro. To learn more, or to register for a demonstration, visit http://www.digitalwarroom.com . For a complimentary e-discovery consultation, call toll-free 1-866-927-7006 or email the Digital WarRoom team at sales@digitalwarroom.com .
About GGO
Since its inception in 2002, GGO (Gallivan Gallivan & O'Melia LLC) has successfully completed over 2,000 complex e-discovery matters, including over 250 matters since 2009 for which the company processed and hosted 1,300 terabytes of electronic documents. The Digital WarRoom® Platform is a robust e-discovery architecture designed to support fast and efficient ESI processing, content analysis and early case assessment, review, marking and production of email and documents in response to litigation, investigations, M&A activity, and other legal challenges.
Customized services include M&A target data preservation and internal data mining and investigations. Headquartered in Seattle, GGO offices are located in New York, Mountain View, San Francisco, Dallas, and Los Angeles, serving all metropolitan markets in North America. Leading global corporations, Fortune 1000 companies, Am Law 100 law firms, and government agencies, including the Library of Congress, rely on GGO for robust technology and personalized service. To learn more about GGO, visit http://www.digitalwarroom.com
###