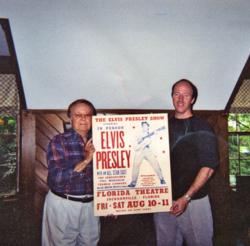 The greatest rock concert poster of all time was printed by Hatch Show Print for the 1956 Elvis Presley tour.
Denver, CO (PRWEB) June 24, 2011
Andrew Hawley, an avid vintage rock concert poster collector, announces his most recent finding, which is believed to be the greatest rock concert poster of all time. Hawley found and purchased the only known and existing 1956 Elvis Presley tour poster printed by Hatch Show Print for Elvis' Jacksonville, Florida concert.
How Hawley acquired the Jacksonville Elvis concert poster started when Gordon Stoker, the tenor and manager for the renowned singing group Jordanaires, noticed the Elvis concert poster nailed to a tree when driving to a rehearsal before the Jacksonville show in 1956. Stoker saw that the name of his vocal group was misspelt with two "o's" instead of one. He stopped the car and took the poster from the tree. He folded it and placed it under his car seat. Twenty-one years later the poster resurfaced. Hawley got wind that one of the Jordanaires had a 1956 Elvis concert poster. He contacted Ray Walker a Jordanaire member who mentioned that Stoker had it. After much effort to meet Gordon Stoker, Hawley met him in Nashville at a recording studio and acquired the poster.
According to Hawley, "The Hatch Show Print Elvis Presley concert posters for 1956 tour are the greatest rock poster of all time. The big red block lettering on white background is stunning on this large 22 by 28 inch concert poster. It is striking because of its size, use of bold bright colors, and images on a white background. The gigantic image of Elvis on the poster is called "the tonsil shot". Many people claim they took this picture of Elvis. It was taken in Tampa, Florida in the summer of 1955."
Hawley continues, "Hatch printed the concert posters in Nashville, Tennessee and shipped them to Jacksonville and other venues by Greyhound Bus. Elvis did a string of shows in Florida in August of 1956 and posters looked exactly alike, but different venue information was printed on the tour blanks depending on where he was playing."
Videos of the Elvis Tupelo show are available on the Internet that brings you back to 1956 in August when Elvis toured Florida. He wiggles his hips, and the girls go crazy which was controversial then. A Florida judge during the 1956 tour warned him to tone it down. Elvis had sex appeal and he knew how to use it. Elvis pushed social boundaries as he expressed himself and his music. Elvis paved the way for other artists like Jim Morrison who came popular in the 1960s. This poster can be viewed by going to http://www.vintageconcertposterbuyer.com/gallery_elvis_presley.html
Hawley will pay $25,000 for original vintage 1956 Elvis Presley concert posters. Any condition is accepted. Sellers will be paid in cash within 24 hours guaranteed. For more information, go to http://www.vintageconcertposterbuyer.com.
###