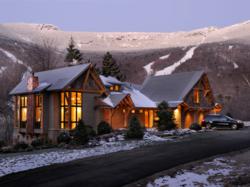 The house is really as dramatically beautiful as promoted throughout the contest
Stowe, VT (PRWEB) June 23, 2011
Stowe Country Homes, Stowe's leading vacation rental management company, is pleased to offer everyone the chance to experience the HGTV Dream Home Stowe Vermont 2011 for a weekend, a week, or longer.
"The house is really as dramatically beautiful as promoted throughout the contest," explains Alison Karosas, owner of Stowe Country Homes. "So many people nationwide pinned their dreams on this home, and now they can stay and enjoy it! We're thrilled to offer it and know that it will make a perfect rental home in any season, with incredible mountain views from its unique slopeside location."
Stowe, Vermont was the most recent location for HGTV's Dream Home Sweepstakes Give Away. It is a 3,400 square foot, custom designed home, styled on Adirondack Great Camps, with wall-to-wall floor-to-ceiling windows, overlooking Vermont's highest peak, Mt. Mansfield. Features include a gourmet kitchen with top-of-the-line appliances, an oversized outdoor hot tub, a fully equipped outdoor dining area, a deluxe dorm-style bunk room, and fine decorator furnishings.
The winners, Eric and Katie Makstenieks from Hinsdale, Illinois, will use the home as a vacation home. They will rent it through Stowe Country Homes when not in use.
"We are truly in love with the house, the slopeside location, and all that Stowe has to offer," adds Eric Makstenieks. "We look forward to spending some time enjoying the luxuries of the home, but are pleased to be able to rent it out as well."
For more information about Stowe Vermont vacation rentals from Stowe Country Homes or for reservations, visit http://www.stowecountryhomes.com or call them at 802-253-8132.
###