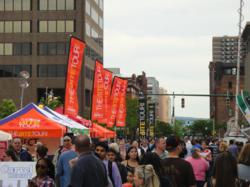 We created this tour off the success of our 11-year-old Fall college program (The Tailgate Tour / www.tailgatetour.com) to provide consumers a fun memorable experience at their favorite food & music festival
Deerfield Beach, FL (PRWEB) June 22, 2011
In its first 4 weeks, The Bite Tour (the largest traveling experience at the nation's biggest food & music festivals) is capturing record numbers of consumers gathering to celebrate their local flavors with a highly interactive and fun-filled "event within an event." Driving the attention is Travel Channel's Man v. Food Nation installation that brings the hit series to life. Not only are fans encouraged to participate in spicy hot wing food competitions, but there's also the opportunity to record a short video explaining why they should be a challenger on one of this season's final episodes. In the center of the action, Kinect™ for Xbox 360®, (The tour presenting partner) invites consumers to play Dance Central and Kinect Sports, with the support of enthusiastic cheering and dancing from the crowds. Set up in a creative way for maximum views, consumers are able to see play where the participant is the controller (with nothing to hold), watching their entire body in the game.
Additional activities offered throughout the tour include an array of games and free sampling of products from Scope Mouthwash, Texas Pete Hot Sauce and Cape Cod potato chips. For July 4th weekend, the tour will add the worlds largest Waffle Toss Game towering over 20' at the event site where consumers will compete head on for prizing. The Bite Tour will touch over 3 million consumers over 14 weeks at events and many more across its media partners and social platforms.
"We are thrilled with the early reception that we've gotten in the first 4 weeks and look forward to bringing the fun to all of the cities" says Jay Freedman, NFuse's Managing Partner. "We created this tour off the success of our 11-year-old Fall college program (The Tailgate Tour / http://www.tailgatetour.com) to provide consumers a fun memorable experience at their favorite food & music festival" Freedman continues. Since its launch, the Bite Tour has been receiving countless invitations to attend events around the country. Plans are already in the works for an expanded itinerary for 2012.
The Bite Tour kicked off on May 28th at the Great American Rib Cook off in Cleveland, Ohio and will end in early September in Atlanta.
The full tour schedule
May 28-29 – Great American Rib Cook Off – Cleveland
June 4-5 – Taste of Syracuse, Syracuse, New York
June 11th – 12th – Taste of Charlotte, Charlotte, North Carolina
June 18-19 - Belleville National Strawberry Festival, Belleville, Michigan
June 25-26 - National Capital Barbecue Battle, Washington, D.C.
July 1-4 – Napperville Ribfest, Naperville, Illinois
July 9-10 – Taste of Dallas, Dallas, Texas
July 16-17 – Artscape – Baltimore, Maryland
July 23-24, -Columbus Jazz Rib Festival, Columbus, Ohio
July 30 – Bi Week
Aug 6-7 – Wisconsin State Fair, Milwaukee, Wisconsin
Aug 13-14 – Iowa State Fair, Iowa City, Iowa
Aug 20 – Indiana State Fair, Indianapolis, IN
Aug 26-27 – Music City BBQ Festival – Nashville, Tennessee
Sept 3 – Kick Off Classic Food Fest – Atlanta, Georgia
Complete details on all dates and activities related to the tour are being showcased at http://www.thebitetour.com and on Facebook. Local partners on The Bite Tour include a long list of local radio stations, online and newspapers. Additional partner to the tour include: Cape Cod Potato Chips, USA Today, Honda Generators, Fastsigns and La Quinta Inn's and Suites.
NFuse 360 Marketing is based in Deerfield Beach, Florida and Los Angeles. NFuse 360 Marketing is a strategic integrated Marketing, Promotion and Events company that directs an array of custom marketing programs for Radio, TV and Brands. NFuse 360 builds hundreds of custom programs a year that are structured on providing 360 degrees solutions for its clients. http://www.nfusemarketing.com & http://www.nfuse360.com
# # #