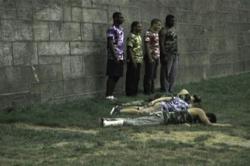 Staten Island, New York (PRWEB) June 22, 2011
The Council on the Arts & Humanities for Staten Island (COAHSI), is excited to present interdisciplinary media artist Mandy Morrison and break dance collective NYC Arts Cypher at LUMEN, as part of SUMMERFEST. LUMEN takes place on the northern, industrial, Staten Island waterfront site of the Lighthouse Museum from 6 P.M. to 12 A.M. Morrison and the NYC Arts Cypher are both recipients of the 2011 Excellence in the Arts Award, made possible by COAHSI and the NYC Department of Cultural Affairs.
Their collaborative performance/video, Playing Defense, will begin at approximately 8 P.M. The project blends the idioms of break dance with contemporary conceptual dance practice. For this performance, the dancers will perform in front of a video. In the video, they explore and challenge the spatial geometries of a military fortress by pitting the athletic rigor of break dance against the sacrificial and submissive demands of military life. It's a can't miss experience for any fan of dance or film!
Playing Defense is choreographed by Mandy Morrison. Program Director, Charlie Balducci. Break Dance Participants: Antonio Smith; Tim Diaz; Willifred Finuliar; General Nils aka Slim; Concrete Monkey; B-Boy Earl; Merlin and Anthony Mada.
This performance, along with the entire LUMEN event, is completely free! Who doesn't want to enjoy a warm summer night as they lie out and enjoy art by the waterfront? Sounds like a perfect evening.
SummerFest is a series of free performances and workshops by Staten Island artists, presented by the Council on the Arts and Humanities for Staten Island (COAHSI). SummerFest grants are made possible through the NYC Department of Cultural Affairs. Summerfest is also sponsored by SIBOREALTORS, Pastosa Ravioli of Forest Avenue, Atlantic Salt, DeSantis, Kiefer, Shall & Sarcone LLP, CLR Printing Plus, Brooklyn Brewery, Northfield Foundation, and Mandolin Brothers. For more information about SUMMERFEST, visit: statenislandarts.org/summerfest.html, or call 718-447-3329 x1003.
About COAHSI:
The mission of COAHSI is to cultivate a sustainable and diverse cultural community for the people of Staten Island by: 1) making the arts accessible to every member of the community; 2) supporting and building recognition for artistic achievement; 3) providing artists, arts educators, and organizations technical, financial, and social resources to encourage the creation of new work. COAHSI does extensive outreach to communities that are underserved geographically, ethnically, and economically. The organization works hard to impact the arts across all borders.
# # #