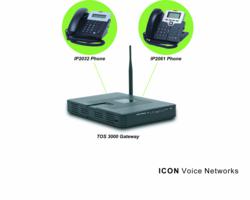 With standard features like 802.11 wireless, built-in DHCP server and multi-language voice prompts, the TOS 3000 offers a solid foundation for voice and data communication – even if there are multiple-sites.
Irving, TX (PRWEB) June 22, 2011
ICON Voice Networks, LLC (Irving, TX, http://www.iconvn.com) has announced the release of the TOS 3000, a new all-in-one voice and data communications system that functions as a full-featured VOIP phone system, router/firewall, 802.11 wireless access point, and LAN DHCP server. The TOS 3000 was specifically designed for small offices and multiple location businesses with growth up to 50 phones, 12 IP trunks, and 6 analog PSTN caller ID lines.
The TOS 3000 is a SIP-based phone system that provides call control with advanced features and includes an embedded 6-port voice mail / automated attendant with multi-language prompts and 10 menus. An expanded feature set offers users the capability to simultaneously ring their desk phone and cell phone, quick access to call control features such as call park, call forward, 3-party conference, transfer, and paging, and user-based preferences such as distinctive ringing, personal phonebook, and call blocking that are easily configured through the phone or browser. Business productivity features include direct station selection/busy lamp field indication, call routing to UCD hunt group, support for up to 100 DID/DNIS numbers, and page group access. Installers benefit from simplified installation that includes a browser-based setup wizard that has the system up and running in about 20 minutes, and automatic plug and play for simplified moves, adds, and changes of internal and remote IP phones.
The TOS 3000 also operates as the primary appliance in small business applications by virtue of its embedded voice networking and data communications features. Companies with up to 10 locations can utilize the TOS 3000 as a multi-location IP-PBX. Add to that an integrated router/firewall, LAN/WAN access, and an integrated 802.11 access point, and the TOS 3000 provides the essential functions a business requires for their voice and data communications.
The TOS 3000 is the first new product launched by ICON Voice Networks following the company's acquisition of Iwatsu America, Inc. in April. "We are very excited to launch this small business solution," said Kevin Kelleher, CEO, ICON Voice Networks. "The system's advanced features offer much more than a typical SIP system, and the integrated networking capabilities provide small businesses the essential functions in one integrated platform. With standard features like 802.11 wireless, built-in DHCP server and multi-language voice prompts, the TOS 3000 offers a solid foundation for voice and data communication – even if there are multiple-sites."
A new line of SIP telephones is being released with the TOS 3000 system, available exclusively through ICON Voice Networks. The IP2061 phone features a backlit, six-line display with four soft keys, a full-duplex speakerphone, and four programmable keys. A key expansion unit with 24 multi-colored green and red LEDs is also available for use with the IP2061. A second phone, the IP2032, features a three-line display, full-duplex speakerphone and two programmable keys. Both the IP2061 and IP2032 include an integrated 10/100 layer 2 switch and support power over Ethernet or local line power. In early fall, ICON Voice Networks plans to release a third phone, the IP2092 that features a color touch screen display loaded with phone-based applications and enabled for internet access.
About ICON Voice Networks: ICON Voice Networks engineers, develops, and distributes voice networking and integrated office solutions and products that serve the needs of small businesses and large enterprises alike. ICON Voice Networks products cater to specific business needs by optimizing access and availability through highly reliable voice processing that incorporates the latest collaboration, video and mobility technologies. ICON Voice Networks has integrated these different mediums of communication with other office automation systems such as video monitoring and notification to provide a single office automation solution engineered from the core. In addition to development, ICON Voice Networks is a master distributor for multiple IP-PBX and unified communications product lines providing sales support, technical support and custom application development.
Contact ICON Voice Networks: marketing(at)iconvn(dot)com.
###