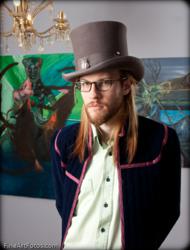 (PRWEB) June 22, 2011
The Council on the Arts & Humanities for Staten Island (COAHSI), is excited to present Excellence in the Arts Award winner Brendan Coyle, who will be displaying "Screen Test Ad Infinitum" at LUMEN. LUMEN is the last performance event of Summerfest, and it's shaping out to be the biggest as well! Similar to last year's event, LUMEN 2011 will be open to the public and free of charge. Brendan's performance will take place during the entire duration of LUMEN, from 6pm-midnight.
"Screen Test Ad Infinitum" is part video, part performance, and part audience interaction! First, Coyle invites viewers to interact with the infinity screen and be recorded and archived in a collection of infinity screen tests. After viewers interact with the infinity screen, Coyle will perform in front of the screen with camera movements created by a partner or an entrusted viewer. He will make a demonstration of molds and bubbles, pouring viscous substances in the molds. This interaction with the oozing molds and his performance in front of the screen will lend itself to the themes of time, birth and the evolution of life forms.
LUMEN will take place on Saturday,June 25, 2011 on the northern, industrial, Staten Island waterfront site of the Lighthouse Museum (the Former U.S. Coastgoard Depot). An evening of free art only 5 minutes away from the free Staten Island Ferry. See Brendan Coyle's performance, and many, many other performances at LUMEN.
SummerFest is a series of FREE performances and workshops by Staten Island artists, presented by the Council on the Arts and Humanities for Staten Island (COAHSI). SummerFest grants are made possible through the NYC Department of Cultural Affairs. Summerfest is also sponsored by SIBOREALTORS, Pastosa Ravioli of Forest Avenue, Atlantic Salt, DeSantis, Kiefer, Shall & Sarcone LLP, CLR Printing Plus, Brooklyn Brewery, Northfield Foundation, and Mandolin Brothers.
For more information about SUMMERFEST, visit: statenislandarts.org/summerfest.html, or call 718-447-3329 x1003.
About COAHSI:
The mission of COAHSI is to cultivate a sustainable and diverse cultural community for the people of Staten Island by: 1) making the arts accessible to every member of the community; 2) supporting and building recognition for artistic achievement; 3) providing artists, arts educators, and organizations technical, financial, and social resources to encourage the creation of new work. COAHSI does extensive outreach to communities that are underserved geographically, ethnically, and economically. The organization works hard to impact the arts across all borders.
###