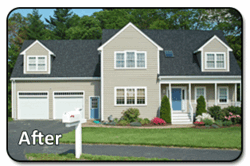 It's more important than ever to give customers the opportunity to share about their experience.
Boston, MA (PRWEB) June 23, 2011
Momentum continues to shift from the use of vinyl and cedar siding to alternative siding products such as Everlast. And with this shift, homeowners exploring various siding alternatives on the internet are looking for detailed information about the benefits of non-vinyl siding over vinyl and cedar. Composite siding is becoming so popular because it has low maintenance qualities but a much more realistic look than standard .040-.046 vinyl siding. Instead of more traditional marketing methods such as show rooms, trade shows, or distribution through home improvement stores, Everlast Composite Siding is turning to the internet to gain exposure and boost product awareness.
In addition to this recent siding video launch Everlast has a growing amount of photos, project profiles, testimonials and videos both on the website http://www.EverlastCompositeSiding.com and other websites. Homeowners who have Everlast on their home are encouraged to send along their photos and stories of their siding transformation. "It's an interactive world we live in," and "it's more important than ever to give customers the opportunity to share about their experience." Statistically speaking most homeowners researching a project spend more time browsing the internet than walking a store, show room, or trade show. The team at Everlast Composite Siding believes developing the wealth of information about their product on internet is the best opportunity to reach people in search of new siding.
To view the lastest Everlast Siding video visit: Composite Siding Video
Everlast Composite Siding is an experienced siding contractor in Boston and serving much of New England. Featuring Everlast Polymeric Cladding, distributed by Norandex Building Materials Distribution Inc., the staff at Everlast Composite Siding is passionate about rejuvenating existing homes with low-maintenance but beautiful products.
###