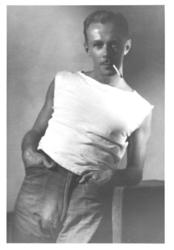 (PRWEB) June 23, 2011
In the upcoming exhibition Obscene Diary, the rich sexual documentation of one remarkable individual, a professor, tattoo artist, pornographer and sexual record keeper, Samuel Steward will be unveiled. Steward's self documentation included a catalogue of every partner and sex act, illustrated through photos, diary entries, sexual record keeping, explicit drawings and erotic literary musings.
"Obscene Diary asks our patrons to reflect on what it would look like if their own sexual histories were documented and what this would say about the times in which we live. Rarely do we have an opportunity to see a sexual life so completely documented, providing an unprecedented peek into the private lives of men from an earlier era."

Sarah Forbes (Museum of Sex Curator)
Recovered from a San Francisco attic in 2001, Samuel Steward's preserved archive recently formed the basis of the widely acclaimed biography, SECRET HISTORIAN: THE LIFE AND TIMES OF SAMUEL STEWARD, PROFESSOR, TATTOO ARTIST, AND SEXUAL RENEGADE, which was a finalist for the 2010 National Book Award. The biography provides an amazing portrait of not only Samuel Steward, but of an entire generation of men who lived in the years before Stonewall, when it was dangerous to be openly homosexual. Presented to the public for the first and only time before its donation to a special collections library, the Steward Archive makes up the core of the exhibition Obscene Diary: The Secret Archive of Samuel Steward, Professor, Tattoo Artist and Pornographer launching at the Museum of Sex on July 14, 2011. Justin Spring, Steward's biographer and exhibition curator said, "This exhibition features the most comprehensive group of artifacts from the Steward Archive that will ever be made available for public view."
From his earliest years, Samuel M. Steward (1909 –1993) was curious about sex. By his early teens, Steward was already sexually active; one of his earliest reported sexual escapades was with the silent film heartthrob, Rudolph Valentino. During his early years as a university professor, Steward sought to understand the nature of his homosexuality through reading, writing and research, in a time period where sexual orientation was a forbidden topic and homosexuals were either invisible within the population or treated as outcasts and criminals.
Born in rural Ohio, Steward soon moved beyond this conservative small town environment to become a poet, novelist and scholar. He worked for seventeen years as a university professor, and established a number of literary, intellectual, and artistic friendships along the way with people such as Gertrude Stein, Alice Toklas, Thornton Wilder, and George Platt Lynes. His most sexually active years coincided with the McCarthy era, leading him to conduct clandestine sex parties in his Chicago apartment, to travel to Paris and Rome in search of a more sexually permissive environment, and even to establish himself for weeks at a time in a San Francisco YMCA, where he could enjoy the sexual freedom denied to him in his semi-closeted life as an academic.
The highly active sexual life Steward conducted first in Chicago and later in the San Francisco Bay Area involved mostly working-class, under-class, and criminal-class men. His narratives and statistical documentation of these encounters are catalogued in a vast archive describing his sexual interests and activities, which included flagellation, group sex, public sex, sex with hustlers, and sex involving bondage and discipline, domination and submission. His archive includes drawings, paintings, sculptures and photography as well as fiction, diaries, letters, journals and statistical calculations, most of which was intended for use by Alfred Kinsey's Institute for Sex Research. Steward volunteered for the Institute both as a research subject and as a research associate, and donated significant portions of his archive to the Kinsey Institute during his lifetime. The majority of his archive, however, remained with Steward until his death in 1993.
Rebelling from his sexually claustrophobic life in academia in the mid-1950s, Steward left teaching to become a skid-row tattoo artist in downtown Chicago. There his clientele included large numbers of sailors-in-training as well as hustlers, gang-members, and ex-cons. Under the assumed identity of tattoo artist "Phil Sparrow," Samuel Steward was able to indulge his creative spirit while working with a seemingly endless stream of young sailors and military men who were his erotic ideal. Later, while tattooing in Oakland, California, Steward mentored the young, Ed Hardy, who would go on to become one of the world's best known tattoo artists whose art serves as the basis for the popular Ed Hardy fashion line. Steward's background in literature and the visual arts subsequently laid the path for yet another life transition in the mid-1960s, when the tattoo artist "Phil Sparrow" transformed himself yet again into "Phil Andros," author of sex-positive gay pulp pornography.
The Steward Archive is alternately shocking and amusing, pathetic and uplifting, for it describes a life lived boldly and adventurously during a time of extraordinary sexual oppression. In viewing this remarkable archive, visitors will experience firsthand not only one man's evolving perception of his own sexual nature and desires; but also the evolving awareness of homosexuality among Americans from the mid-1920s to the early 1990s.
The central artifact of the exhibition is Steward's "Stud File," a typed card catalogue featuring all of Steward's sexual partners, the dates and places of their encounters, a coded key of the various sexual acts that took place as well as partners' penile dimensions.
While some collections are meant to be private, this exhibition is an extension of Steward's intentions to bring an honest confrontation of sexuality to the American public through the writing, art, photography and sexual record keeping of his lifelong collection, promising to be an event of significant cultural interest and importance as well as popular curiosity.
"I anticipate that the exhibition at the Museum of Sex is going to be groundbreaking and controversial, one that will continue to be discussed by people, both straight and gay, for years to come."

Justin Spring (Author/Exhibition Curator)
About The Museum of Sex
The Mission of the Museum of Sex is to preserve and present the history, evolution and cultural significance of human sexuality. In its exhibitions, programs and publications, the Museum of Sex is committed to opening discourse and exchange and to bringing to the public the best in current scholarship. The Museum's permanent collection of over 15,000 artifacts is comprised of works of art, photography, clothing and costumes, technological inventions and historical ephemera. Additionally, the museum houses both a research library as well as an extensive multimedia library, which includes 8mm, Super 8mm, 16mm, BETA, VHS and DVDs. From fine art to historical ephemera to film, the Museum of Sex preserves an ever-growing collection of sexually related objects that would otherwise be destroyed and discarded due to their sexual content. In a city that never sleeps, the Museum of Sex is constantly evolving and has no plans to slow down. http://www.museumofsex.com
For high resolution images and press questions please contact:
Jim O'Shea
212-689-6337 ext. 125