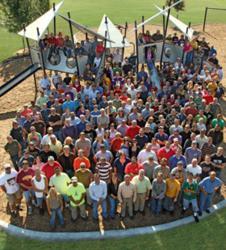 It's especially exciting that we were given this honor based on our employees' feedback.
Delano, Minn. (PRWEB) June 22, 2011
Landscape Structures has been named one of the Top 100 Workplaces in Minnesota based on an employee-based survey project from the Star Tribune. The Delano, Minn.-based commercial playground equipment manufacturer was ranked 10th on the midsize companies list. The Star Tribune Top Workplaces special section was published in the Star Tribune on Sunday, June 19. The report can also be found at StarTribune.com/topworkplaces2011.
Produced by the same team that compiles the 20-year-old Star Tribune 100 report of the best-performing public companies in Minnesota, Top Workplaces recognizes the most progressive companies in Minnesota based on employee opinions about company leadership, communication, career opportunities, workplace environment, managerial skills, pay and benefits. The analysis included responses from more than 60,500 employees at Minnesota public, private and nonprofit organizations.
"We are proud to be named as a Top Workplace in Minnesota," said Pat Faust, president of Landscape Structures. "It is especially exciting that we were given this honor based on our employees' feedback on the company. Their commitment to continually improving what we do in order to provide the best playgrounds available for kids, along with their positive attitudes help Landscape Structures continue to be a great company."
Star Tribune Publisher Michael J. Klingensmith said, "The companies in the Star Tribune Top 100 Workplaces deserve high praise for creating the very best work environments in the state of Minnesota. My congratulations to each of these exceptional companies."
To qualify for the Star Tribune Top Workplaces, a company must have more than 50 employees in Minnesota. More than 1,200 companies were invited to participate. Rankings were composite scores calculated purely on the basis of employee responses.
Since 1971, Landscape Structures Inc. has been the leading commercial playground equipment manufacturer in the world. Our employee-owned company is committed to making the world a better place with active children thriving in leading communities year after year, generation after generation. We encourage outdoor play that develops healthy kids and a sustainable world by creating innovative products that are environmentally responsible. Our mission from day one has been to enhance children's lives by fostering and creating inspiring play experiences while honoring the environment. Learn more at playlsi.com.
###