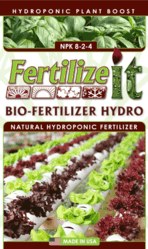 probiotic, bio-available, liquid fertilizers [are] ideal for getting your hydroponic system operating at optimal and consistent levels.
Heath, TX (PRWEB) June 24, 2011
FertilizeIt Hydroponic Formulas consist of three main products which can be easily added to any hydroponic system. The first product is an all purpose, liquid fertilizer, which goes into the system to stimulate growth without the harmful side effects of traditional chemical fertilizers (FertilizeIt Bio-Fertilizer Hydro). The second product is a high phosphorous liquid formula that benefits bud and bloom set (FertilizeIt Bloom Set Hydro). The third product is a two-step liquid probiotic formula that contains beneficial microbes which results in increased oxygen and helps support a balanced system for the benefit of the entire plant structure (FertilizeIt Hydro Activator). Utilizing this system which was formulated specifically for hydroponic use will increase the efficiency of the operation as well as the growth of individual plants. In addition we also offer a powdered pH buffer for hydroponic use as needed.
We know the challenge of running efficient hydroponic systems is perfecting the growing media. The concentrated bio-available nutrients found in FertilizeIt Hydroponics Formulas will result in a reduction of operational cost, as well as, the following benefits to your systems:

More oxygen in the water
More aerobic biological activity
More balanced and steady growth of plants
Increased strength and deep green leaf color
Enhanced disease resistance
Improved germination rate
In recent hydroponic case studies on lettuce, tomatoes, and peppers with FertilizeIt Hydroponic products, results showed complete germination of all seeds in just 36 hours. The most popular use for hydroponics recently has been for the medical marijuana industry. As CEO of Scott's Miracle Grow, Jim Hagedorn, told the Wall Street Journal in a recent interview, "[We] want to target the pot market, there's no good reason we haven't." Even the big players in this industry have noticed the potential of the hydroponic fertilizer market. FertilizeIt brand has been proven to be effective both in soil and hydroponic applications and is available as a liquid so it is a seamless addition to any operation.
For more information on where to find FertilizeIt Hydroponic Fertilizers please visit http://www.thefertilizerstore.com.
###