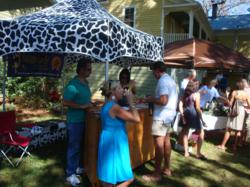 They're like a big backyard party with friends.
Boonville, NC (PRWEB) June 23, 2011
The Yadkin River Wine Trail invites visitors to cool off this summer during its mini-festivals held the first Sunday of each month through October. Customers can sample up to 25 different wines, find their favorite, and enjoy it on a picnic blanket on a Sunday afternoon.
The Yadkin River Wine Trail is comprised of five wineries in East Bend and Boonville, all which are located in the Yadkin Valley American Viticulture Area (AVA). The mini-festivals were created to give consumers a one-stop way to personally experience the varied personalities of the wineries along the Yadkin River Wine Trail. The Yadkin Valley wineries include Cellar 4201 Vineyard; Divine Llama Vineyards; Flint Hill Vineyards and Century Kitchen; RagApple Lassie Vineyards; and Sanders Ridge Winery, Restaurant, and Big Woods Zip Line.
"The mini-festivals are laid back and fun," says Sales Manager Jennifer Hiatt of Sanders Ridge Vineyard and Winery. "They're like a big backyard party with friends."
Representatives from each winery will be available to answer questions and explain how their wines are made. As the summer progresses, each of the wineries takes a turn hosting the other wineries along with their own food and bands.
Hiatt likes the change in atmosphere at each venue. "My favorite thing about the mini-festivals is that each venue offers something different along with their own music and food," explains Hiatt. "You can come each time this summer and get a completely different experience."
Each mini-festival is held from noon until 4 p.m. Visitors are encouraged to bring blankets and chairs. Tickets are $10 and include a tasting with all five vineyards. Ticket holders must be 21 years old or older. Tickets can be purchased during the day of the event or in advance at each winery.
The Yadkin Valley AVA was established in 2003 as an appellation allowing winemakers to bottle wines labeled from the Yadkin Valley. Wine trails are designated routes along which consumers sample wine within a specific region. For more information, visit http://www.yadkinriverwinetrail.com or Yadkin Valley Wine Blog.
Upcoming Mini-Festivals
July 3, 2011
Divine Llama Vineyards
August 7, 2011
Flint Hill Vineyards and Century
September 4, 2011
Sanders Ridge Winery, Restaurant, and Big Woods Zip Line
October 2 , 2011
Cellar 4201 Vineyard
###