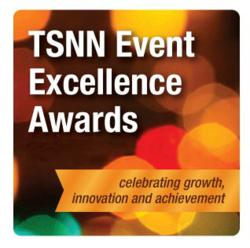 This year, once again, we welcome the most innovative members of the business in a luxurious setting to learn, network, and acknowledge the best and the brightest.
Austin, TX (PRWEB) June 23, 2011
Tarsus Advon, a division of U.K.-based Tarsus Group, will hold the 2nd Annual TSNN Event Excellence Awards (T-awards) Nov. 4-6 at the Omni Shoreham Hotel in Washington, D.C.
"With so many event professionals asking about the future of our industry, it is refreshing to realize that innovation and excellence are still two foundational truths that will lead to success," said Stephen Nold, president of Tarsus Advon. "As TSNN continues to measure the changes occurring on and with trade show floors, the compass for our industry will be pointed wherever show managers are able to deviate from traditional, lackluster processes and adopt novel new ideas. TSNN seeks to highlight these accomplishments."
The three-day event will kick off with a Friday night opening reception, followed by a Saturday all-day conference that will be "Exploring Excellence" and a gala awards celebration that evening celebrating the winners, capped off by a brunch the next morning.
"This is the true 'knock your socks off' event in our industry, and I am thrilled and honored to remain deeply involved with the celebration of success our winners deserve," said Adam Schaffer, president of Media Revenue Partners, former publisher of Tradeshow Week and founder of TSW Fastest 50.
Schaffer, who also will emcee this year's event, added, "Since 2003, I have been privileged to host the original and most respected event that defines excellence in our business. This year, once again, we welcome the most innovative members of the business in a luxurious setting to learn, network, and acknowledge the best and the brightest. Top industry leadership will join us, as always, as part of our educational session, and we will hear from winners and other experts as well.
The TSNN Event Excellence Awards were created to celebrate the growth, innovation and achievement that exist in our industry. Every day, show organizers are working to promote their events, launch new ones, and better serve their attendees and exhibitors by creating amazing marketplaces for commerce.
TSNN will celebrate growth in this second year by awarding success in many categories, including Fastest-Growing Show and Fastest-Growing Attendance, as well as awards for Marketing and Social Media and for those shows entering the 'Elite 50' – the 50 largest shows in the country.
TSNN also will award real achievement in the industry by celebrating the work of a true icon in the business during this special evening. It is those that have led the industry for many years that we applaud with this honor.
Equally important is the innovation award that will honor the best technology that exists to support the work of the tradeshow industry. In this, the 'modern era' of events, the technological tools that power the business are important partners for success.
This weekend-long celebration, at the luxurious Omni Shoreham Hotel, is where the best and the brightest in the business gather in Washington, D.C., to network, connect and celebrate working in an industry like no other – and acknowledging and embracing the success that we have mutually achieved.
More information will be coming on registering for the all-day conference and purchasing tickets for the TSNN Event Excellence Awards gala celebration.
About Tarsus Advon
Based in Austin, Tarsus Advon oversees online publications and community portals that provide technology information and education for the event and trade show industry. Tarsus Advon also conducts research with show organizers, technology suppliers and industry experts. Qualitative and quantitative data are respectively gathered through primary sources and survey analysis. Events are designed to educate event and exhibition professionals about the latest trends and developments in technology. Tarsus Group acquired Tarsus Advon in 2010.
###