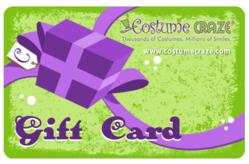 "Costumes make great gifts.... We're excited to offer this service to our customers."
Pleasant Grove, Utah (PRWEB) June 23, 2011
Costume Craze, one of the Internet's largest costume retailers, announces the addition of Gift Card services to their online store. Customers can now purchase Gift Cards in any dollar amount for friends, family and coworkers, simply by visiting http://www.costumecraze.com/Gift-Cards.html. The Gift Cards never expire, and may be used to purchase any item in the Costume Craze catalog.
"Costumes make great gifts," commented Kate Maloney, CEO of Costume Craze. "They're perfect for birthdays, holidays and special occasions all year long. We're excited to offer this service to our customers."
Upon purchasing a Gift Card, the customer can choose to receive a printer-friendly version, or have Costume Craze email it directly to the recipient.
"Our system can promptly email the recipient, providing fast delivery," explained Jeff Wiseman, V.P. of Marketing & Business Development. "This is a convenient feature, especially for last-minute shoppers."
Available Gift themes include Birthday, Halloween and Christmas, and come in a variety of colors and designs.
Costume Craze operates year round, providing costumes for parties, holiday celebrations, and special events throughout the year.
Costume Craze was founded in 2001, by founders Matthew Maloney, Kate Maloney and Kathleen Maloney. What started as a home business is now one of the world's largest online costume retailers, operating from a massive warehouse in Pleasant Grove, Utah. Costume Craze has received many awards for excellence in business from leading entrepreneurial organizations, including Inc 500, Internet Retailer 500, and Ernst & Young. Costume Craze carries an estimated 30,000 costumes, props and accessories and ships worldwide throughout the year. Full selection available at http://www.CostumeCraze.com.
###