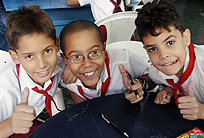 You'll experience the island candidly through the lens of Cubans reflecting many walks of life.
Blaine, WA (PRWEB) June 22, 2011
Educators across America are invited to witness the island on the Teachers Introduction to Cuba Tour from August 6 to 13, 2011. Trip costs are rock bottom and nearly all-inclusive. This one time program was launched in response to hundreds of requests from U.S. educators to explore Cuba as a study abroad destination for their students.
Following President Obama's relaxation of Cuba travel rules for U.S. schools, teachers in every state are planning trips to Cuba for their students. Cuba Education Tours worked with its island staff, and cultural and educational organizations to design a program that samples much of island society and life.
The cost of the tour is $1199. Comparable programs run more than twice this amount.
U.S. educators will examine islands achievements in education, healthcare, culture and ecology. They'll also delve into history, the arts, rural agriculture and nature directly.
Guests will spend eight days and seven nights in the historic four-star boutique Hotel Florida, and be part of the authentic daily life of Cubans in La Habana and Pinar del Río provinces.
Island experts from diverse fields will host forums to discuss issues unique to Cuba and of common interest to educators globally.
"The best thing about the program is its rich content. There are activities morning, afternoon and night," describes Leonardo Hechavarría. "You'll experience the island candidly through the lens of Cubans reflecting many walks of life and glean insights into dynamic citizen engagement in all aspects of urban and rural development and national policy." Hechavarría, a graduate of the University of Havana, coordinates ground operations for Cuba Education Tours.
Tour highlights include visits to community cooperatives, clinics, schools and cultural organizations, urban organic gardens, Ernest Hemingway's house, and numerous museums.
Participants will also be part of roundtable discussions hosts by island scholars and intellectuals. Topics include, "The Reality of Cuba Today," "Women's Status in Cuba," Education in Cuba," "Artistic Freedom in Cuba," and "Gender and Diversity in Cuba."
The program features elements of Cuba's rich African heritage. Trekkers will tour the House of Africa and the Afrocuban community of Regla on the outskirts of Havana.
Cuban food has suffered a bad wrap since the late 1980s. "On this tour guests will dine at the very best restaurants and experience high Cuban cuisine." exclaims Hatch. "They'll return raving about the new dishes that combine traditional and international influences into something truly unique and tasty."
Travelers will have a chance to see where and how island food is raised. They'll visit rural Viñales Valley in the province of Pinar del Río where edibles and tobacco are raised. While there they'll explore caves, nature and farms.
Naturally, Cuba's stunning architecture, comprising the largest collection of Spanish colonial-era buildings in the hemisphere, will be examined. Representatives of the Office of the Historian of Havana will describe the restoration and preservation process. Both Havana and Viñales Valley have been declared UNESCO world heritage sites.
"Cubans are eager to meet American teachers and share insights into their country and society," says Graciella Quiñones. "In return Cubans want to hear ideas from their guests on education in their country." Quiñones is a University of Havana graduate and former event planner at the Cuban Film Institute. Today she is a travel coordinator at Cuba Education Tours.
ABOUT CUBA EDUCATION TOURS. Established in 1997 the organization designs culture, education, history and nature tours to Cuba for schools, NGOs and religions groups. It provides comprehensive travel services, and assists Americans with legal Cuba travel. The organization has offices in Canada and the United States. Its staff is from Cuba, Canada and the States and offer services in English and Spanish. Learn more about the company at CubaExplorer.com
###