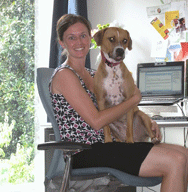 It's a great stress relief to have a 'co-worker' who is always excited to see you and loves all of your ideas!
Boulder, CO (PRWEB) June 22, 2011
FlexJobs is joining businesses across the country in celebrating the 13th Annual Take Your Dog to Work Day on Friday, June 24, 2011. This nationwide event is organized to bring awareness to the benefits of pet rescue and adoption, a cause highly regarded at FlexJobs. As a team of telecommuters, the ability to have their pets at work is just another reason why FlexJobs staff members are passionate about telecommuting jobs.
"Working with my dogs, Coda and Sparky, is a great benefit and allows me to be with them a lot more than I would if I had a 'traditional' job." says Sarah Streeter, who writes and does employer outreach for the company. FlexJobs CEO Sara Sutton Fell adds, "We often talk about the obvious benefits of telecommuting and flexible work arrangements – more time for family, shorter commutes, and big savings for companies and employees in terms of gas prices and office space. But one of the best perks of having a telecommuting job is spending lots of time with your pets every day. My dog Derby has been coming to work with me since she was a puppy, and it's a great stress relief to have a 'co-worker' who is always excited to see you and loves all of your ideas!" Sutton Fell jokes.
The benefits of spending time with pets are well documented. According to the Centers for Disease Control, pets can decrease their owners' blood pressure and cholesterol levels through lowered stress, and pets can increase owners' exercise, outdoor time, and socialization. Says FlexJobs job researcher Adrian Reynolds, "My cat, Maverick, is a great coworker because he keeps the atmosphere relaxed and comfortable. He provides good company while I work from my home office as he sleeps peacefully nearby."
About Take Your Dog to Work Day
Take Your Dog to Work Day was established by Pet Sitters International (PSI) in 1999. This annual event urges businesses around the globe to experience the joys of dogs in the workplace for just one day to celebrate the great companions dogs make and to promote their adoption from local shelters, rescue groups and humane societies.
About FlexJobs
FlexJobs is the leading online service for hand-screened and professional flexible, part-time, telecommuting, and freelance job listings. FlexJobs gives job-seekers an ad-free way to find legitimate jobs quickly, easily, and safely. A proud member of the Better Business Bureau, FlexJobs skilled research team provides quality job leads in over 50 job categories, ranging from entry-level to executive, freelance to full-time.
To find out more about FlexJobs, visit http://www.FlexJobs.com.
# # #