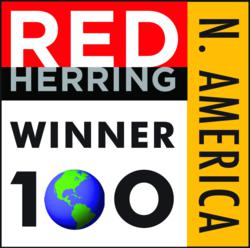 Los Altos, CA (PRWEB) June 22, 2011
ThreatMetrix™, the fastest growing provider of fraud prevention solutions that do not require personally identifiable information (PII), announced today that it was selected as a Top 100 North America company by the Red Herring editorial team.
Red Herring's Top 100 North America list has become a mark of distinction for identifying promising new companies and entrepreneurs. Red Herring editors were among the first to recognize that companies such as Facebook, Twitter, Google, Yahoo, Skype, Salesforce.com, YouTube, and eBay would change the way we live and work.
"ThreatMetrix is honored to make the prestigious Red Herring Top 100 North America list, which names the most promising private technology ventures," said Reed Taussig, president and CEO, ThreatMetrix. "This award further validates our position as a national leader in outstanding fraud prevention solutions."
According to Red Herring, the group of 100 companies are the most innovative based on a candidate pool of hundreds from across North America. The Top 100 are evaluated on both quantitative and qualitative criteria, such as financial performance, technology innovation, quality of management, execution of strategy, and integration into their respective industries.
"After rigorous contemplation and discussion, we narrowed our list down from hundreds of candidates from across North America to the Top 100 Winners," said Alex Vieux, publisher and CEO of Red Herring. "We believe ThreatMetrix embodies the vision, drive and innovation that define a successful entrepreneurial venture."
The full list of winners in 2011 can be found here: http://www.herring100.com/RHNA/2011/top100.html
About ThreatMetrix
ThreatMetrix helps companies stop web fraud and accelerate e-commerce in real-time so they can significantly reduce online fraud, acquire more customers faster, reduce costs, and increase customer satisfaction. The ThreatMetrix Cloud-Based Fraud Prevention Platform, incorporating ThreatMetrix SmartID™ cookieless device identification, provides online businesses with the ability to protect themselves and their customers by verifying new accounts, authorizing payments and transactions and authenticaticating user logins in real-time. Online businesses can deploy the ThreatMetrix Cloud-based Fraud Prevention Platform, which does not rely on personally identifiable information (PII), for traditional online activity via a personal computer as well as for mobile and tablet devices. The company serves a rapidly growing customer base around the world across a variety of industries including social networks (dating, gaming), financial services, e-commerce, affiliate marketing and payments. For more information, visit http://www.threatmetrix.com or call 1-650-625-1451.
© 2011 ThreatMetrix. All rights reserved. ThreatMetrix, the ThreatMetrix Cloud-Based Fraud Prevention Platform, ThreatMetrix SmartID, ThreatMetrix ExactID, and the ThreatMetrix logo are trademarks or registered trademarks
###