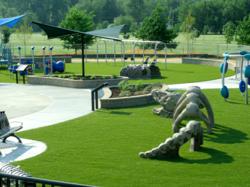 We have some fabulous facilities, but the ForeverLawn set our Boundless Playground apart from all the others! I believe this type of surfacing will become a standard for many playgrounds in the future.
Albuquerque, NM (PRWEB) June 23, 2011
Indiana's first boundless playground opened in Fort Wayne, Ind., on Friday, and everything from the play equipment to the ground itself has been designed to allow children with disabilities and without to play together in an inclusive setting. The playground, called "Taylor's Dream," began as an idea from a little girl named Taylor Reuille. When 11-year-old Taylor realized that there were many kids with disabilities who couldn't play at playgrounds in her community, she and her mother Casey Booher researched and found that a boundless playground would offer amazing play opportunities for children with and without disabilities, including those with physical, sensory, developmental and cognitive disabilities. "We've got to do this, Mom," Casey Booher recalls her daughter saying. "We have to." After years of fundraising and hard work, the playground is now a reality, and features a revolutionary accessible surface called Playground Grass.
Playground Grass by ForeverLawn is an artificial grass surfacing system designed for beauty, safety, and accessibility in playground environments. The system offers a soft, grass-like surface, combined with a padded sub-surface that provides an ASTM safety rating to fall heights of 12 feet. The texture and appearance of the grass contributes to the tactile and visual sensory perception of the children, and the even, stable surface provided by Playground Grass is ADA accessible, allowing wheelchairs, braces, and other assistive equipment to access the facility easily and safely. When used to connect barrier-free play elements like those found at Taylor's Dream, Playground Grass contributes to a truly boundless play experience.
50-year-old Sherry Woodman had the opportunity to play on a playground for the first time in her life at the grand opening of Taylor's Dream. "I'm a disabled parent and I couldn't come when they were little and play with them anywhere on a playground because I couldn't get through with the mulch, you know mulch is really hard for wheelchair tires and stuff," said Woodman. "And so not only are kids going to be able to come here and play that have disabilities, but parents with disabilities are going to be able to come here and feel like normal parents and be able to just enjoy their kids. I didn't leave here till I'd been on every part of the playground, I like I wanted to do it all."
The playground took four years to build, which consisted of a lot of fundraising and hard work by Taylor, the Fort Wayne Parks and Recreation Department, and the community. Taylor and her family personally raised $10,000 through community and school fundraising, and the City of Fort Wayne provided $250,000 toward the playground fund. But when Taylor discovered that the playground would cost over a million dollars to build, she "thought it would be virtually impossible." However, with the help of the community, the city, and donations from other sources, they were able to raise the money.
A large part of the funds to build the park came from a grant from the Pepsi Refresh Challenge, a competition that the park won thanks to a huge effort by Taylor's family and the community of Fort Wayne. The park beat out entries from larger communities, due to the relentless work and voting of those involved, and brought vital funds and exposure to the project. According to the Pepsi Refresh Challenge website, the grant program funds "amazing ideas that refresh the world," and Taylor's Dream certainly fit the bill.
In addition to the accessible artificial turf surfacing, the park also features playground equipment and areas designed to encourage children of all abilities to play together. There are three play areas, with a splash play zone in the middle, and each is designed with different ages and abilities in mind. The park, which was certified by Boundless Playgrounds, a non-profit developer of inclusive playgrounds, offers several different ways to play on wheelchairs. Some examples of this are a large rocking ship with places to sit and places for wheelchairs to park, and also an area with separate paths for kids in wheelchairs to race those on foot.
According to Sarah Nichter of Fort Wayne Parks & Recreation, her department couldn't be more pleased with the ForeverLawn surface. "The Fort Wayne Parks & Recreation Department is in the business of creating and maintaining playgrounds. We have some fabulous facilities, but the ForeverLawn set our Boundless Playground apart from all the others! Not only is it beautiful, setting off our brightly colored equipment, but it also gives children and adults with disabilities the chance to play with their peers. I believe this type of surfacing will become a standard for many playgrounds in the future," said Nichter.
Adrianne Lyon, director of children's services at Turnstone Center for Children and Adults With Disabilities said allowing all kids to play together will provide a sense of inclusiveness for children with disabilities, and will get other children used to interacting with them. "It sort of levels the playing ground for everybody," said Lyon. "We all get to play together."
Now that Taylor is 15, some suggested that she may be too old to play on the playground that she dreamed up. Taylor responded, "It's never too late to be on a playground for the first time. I'll still be playing here at 90 years old."
About ForeverLawn
ForeverLawn provides innovative synthetic grass products to create better landscapes worldwide. In areas where real grass is difficult to grow or maintain—due to high traffic or poor conditions—ForeverLawn offers a realistic alternative that is beautiful, functional, and durable. In addition to its landscape lines, ForeverLawn also offers specialty products including K9Grass, SportsGrass, Playground Grass, GolfGreens, and SplashGrass.
ForeverLawn—Grass without limits. http://www.foreverlawn.com
###