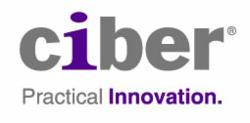 It's a big achievement for our consultants to earn this degree of customer satisfaction and keep customers happy year after year..."
Greenwood Village, CO (PRWEB) June 22, 2011
For the third year running, CIBER has been rated the top ERP (Enterprise Resource Planning) service provider in the Netherlands in a survey of corporate customers conducted on behalf of Computable magazine. The survey found that CIBER's customer-satisfaction ratings topped those of 12 other leading ERP service companies.
A report of the rankings hit newsstands with the publication of Computable's annual ICT Services Guide covering companies from the information, computing and technology sectors. To rank the ICT firms, TNS asked customers to rate their ERP service providers in seven areas: knowledge, price, quality of service, reliability, on-time delivery, on-budget delivery and communication.
CIBER earned the highest score in all categories except on-budget delivery where it captured the second highest score. On average, CIBER chalked up a 7.54 rating on a scale of one to 10, with 10 representing the highest possible level of satisfaction. Of the 13 companies rated, CIBERwas one of only two companies that broke the seven mark for an overall score. CIBER's 2010 ratings show increasing customer satisfaction. In 2008, the company earned a 6.9 rating and, in 2009, its overall rating was 7.1.
"We're extrememly proud of this result," said Wil Daniels, director of CIBER's Enterprise Application Services. "It's a big achievement for our consultants to earn this degree of customer satisfaction and keep customers happy year after year. This research shows that the commitment we pursue is appreciated by our customers."
CIBER has helped global clients in a wide range of industries meet their business goals through successful implementation, integration and support of leading enterprise software solutions and technology infrastructure. Leveraging its global presence, industry expertise, strong partnerships with other market leaders (SAP, Oracle, Microsoft, and Lawson), and dynamic collaboration with clients has been key to each of CIBER's more than 2000 successful ERP engagements.
About CIBER, Inc.
CIBER, Inc. is a global information technology consulting, services and outsourcing company applying practical innovation through services and solutions that deliver tangible results for both commercial and government clients. Services include application development and management, ERP implementation, change management, project management, systems integration, infrastructure management and end-user computing, as well as strategic business and technology consulting. Founded in 1974 and headquartered in Greenwood Village, Colorado, CIBER has more than 8,000 employees. We operate in 19 countries, serving clients from 14 Global Solution Centers and 70 local offices in North America, Europe and Asia/Pacific. Annual revenue in 2010 exceeded $1.1 billion. CIBER trades on the New York Stock exchange (NYSE: CBR), and is included in the Russell 2000 Index and the S&P Small Cap 600 Index. For more information, visit http://www.ciber.com.
# # #