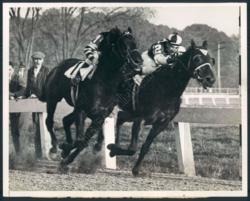 We are adding thousands of new photos to our sites every day and currently have over 22,000 categories in our store. 3,000 of those are sports such as Football, Baseball, Horse Racing, Boxing and Auto Racing," states Eric Moore, Operations Director of MMG
Overland Park, KS (PRWEB) June 22, 2011
Masterpiece Marketing Group (MMG), the premier dealer of original newspaper archive photographs, announced today that collectors can find and purchase over 800,000 rare and unseen photographs at Tribune Photo Archives. MMG has made it easier for collectors to discover and buy the iconic historic photographs that they have been searching for to add to their collections. Newspapers have locked away these original photos from their extensive photo collections for decades, and many have never been seen by the public. Collectors can visit http://www.tribunephotos.com or http://stores.ebay.com/tribunephotos to explore the largest collection of vintage newspaper archive photographs available anywhere.
These photos span decades of history and chronicle the events, people and places that have shaped the world we live in, each representing a unique moment in time and a rare piece of American and world history – a collector's dream come true. "We are adding thousands of new photos to our sites every day and currently have over 22,000 categories in our store. 3,000 of those are sports such as Football, Baseball, Horse Racing, Boxing and Auto Racing," states Eric Moore, Operations Director of MMG. Some of MMG's most trafficked categories include Hollywood actors and actresses, theater and ballet, the arts and literature, politics, war and military including WWI, WWII, the Vietnam War and Korean War, and sports.
Collectors that have taken advantage of the unique pictures found at the Tribune Photo Archives include:

Abigail Anderson, long time horse racing photo collector and blogger (The Vault: Horse Racing Past and Present) recently found a 1943 picture of Count Fleet, a triple-crown winner for sale on eBay. "I've been collecting horse racing photos for over 20 years and didn't think I'd ever find a photo of this horse. I was wonderfully surprised and thrilled to locate and purchase this photo!"
Meddy P., sport collector enthusiast, finds that nostalgia is the driving force behind his collection. "Because the pictures are from photo journalists, they have an artistic nature to them." Meddy collects Ted Williams' photos and has been delighted with some of the photos that he has found. "I love the photos of Ted Williams fishing. I feel a peaceful connection to those photos. In addition, I found a photo of Ted Williams in the cockpit of a plane. I never thought I'd see anything like that!"
Sal Niner a collector of films, television series, books, and music and blogger, "Collectables and Memorabilia" says, "Most, if not all of us, often look back at our childhood and imagine a time when the excitement of discovery was at its peak. I had been in need of discovering and relating to heroes who were not only moral and just, but didn't feel the need to alienate themselves from the public they served. Amongst the handful that I considered my heroes, were ones shown in the late 1980's/early 1990's with the television series "Rin Tin Tin K-9 Cop"(known to Canadian audiences as "Katts& Dog") which had been airing at the time. I knew that from the first episode I watched I was hooked. Years and years thereafter I searched for any memento or item from the series in hopes that it would help me reconnect beyond just the memories of watching it (this was before the era of DVDs when older series were starting to be released), but found very little with the time and resources I had. For a long time the only memento I did have was a tiny newspaper clipping advertising the show, with a picture of Rinty's head, on an evening time slot from an old T.V. periodical. Upon first discovering these photos in your eBay store weeks ago, I felt like that kid again who first discovered the series back in the late '80's; and now, like then, that excitement of discovery had been at its peak. Thank you, Tribune Photo Archives, for helping me further reconnect with my childhood heroes. It may not seem like much; but to this long-time fan and equally long-time seeker, the appreciation for what you do for your customers, is immense and beyond words."
About Masterpiece Marketing Group LLC
Masterpiece Marketing Group markets rare vintage photography and photographic archives to photo collectors and enthusiasts worldwide through a variety of ecommerce and traditional markets. The Tribune Photo Archives contains working archive photos direct from the Chicago Tribune, Baltimore Sun and the Allentown Morning Call newspapers and utilizes the Advanced Image Archiving™ service of Masterpiece Marketing Group and Image Fortress. This turn-key digital image archiving and monetization service enables newspapers, magazines, universities, museums and owners of large photographic collections to now digitize, preserve, and sell their photographic archives, making them easily accessible worldwide.
Image Fortress and DigitalFortress are trademarks of Image Fortress Corporation. Advanced Image Archiving is a joint trademark of Image Fortress Corporation and Masterpiece Marketing Group
# # #