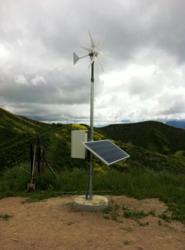 "I can walk outside and go up the hill behind the house (500 feet) and I still get a connection on my iPhone. Now I am free to roam my property without limitation and I am no longer tied to one spot.
Moorpark, CA (PRWEB) June 28, 2011
WirelessGuys, an innovative wireless solutions provider based in Moorpark, CA. has taken an environmentally responsible approach to wireless internet service with the addition of its Green Technology Division. Presented with the challenge of providing wireless internet to a resident in rural Santa Paula, CA, WirelessGuys combined the efforts of their engineers and technicians from various divisions, WG HomeFi, iWG and Green Wireless to design a viable solution.
For years, a Santa Paula book publishing company was plagued with little or no cell phone or television reception and only dial-up internet service available to them. DSL was not available and satellite service, when it became available, was often spotty and inherently affected by weather conditions with a limited amount of throughput. Even business class dishes did not alleviate latency issues. During a comprehensive search for a viable alternative, the owner was referred by a Cisco Systems representative to CEO, Steven Williams at WirelessGuys. The representative described WirelessGuys as the "go-to company" for complex and challenging wireless needs.
Bringing wireless network access to remote sites is always tricky. Reaching remote rural customers with reliable high-speed internet access generally is an expensive proposition for both wireless services providers (WISPs) and for the end user. The Santa Paula challenge involved several issues: eliminating dial-up service in the main house, providing WiFi connectivity between the house and the warehouse/design study (approximately ¼ miles apart and over a hill) and ensuring sufficient throughput for use with iPhones and iMacs. An additional factor was the inaccessibility of an electric power source to the access relay point on the hill. There was no line of sight (LOS) between the two buildings, underground conduits on the property were too far apart for an effective Ethernet connection, and fiber optic was too costly. Conflicts existed between an initial wireless router and additionally added routers, causing the client to abandon this solution in favor of a less desirable wired capability with satellite wireless service available only in the studio. The quandary was not unusual for WirelessGuys, a company that specializes in the design, installation, integration and support of intricate wireless networks.
The WG Green Technology Division provides eco-friendly networking options and solutions that reduce the carbon footprint by employing renewable energy sources like solar and wind power. The remote location of the access relay point in the Santa Paula location eliminated the option of a conventional source of electricity. WirelessGuys opted to avoid installing an enclosed gas generator which is fairly dangerous, not environmentally friendly, and is more difficult to manage. Instead, a relay link was installed with dual redundant sources of energy (solar and wind) to power the battery, eliminating the need for a fixed power connection. As battery energy is used, the supply is replenished with whichever source is available, alternating seamlessly between the two green sources.
Both the HomeFi and iWG divisions collaborated on the solution to provide WiFi service to the residence. A WiFi meshing technique was installed which employs proprietary radios with multiple antennas. The radios form a virtual mesh around the house, insuring uniform and strong coverage throughout the space and allowing lower power devices such as iMacs and iPhones to operative effectively by traveling a shorter distance for a signal. Relay antennas were installed to provide wireless communication between the house and the studio, allowing the client to make cell phone calls from inside the residence. With the assistance of a microcell located in the kitchen, the client is no longer a slave to his landline for communication.
WirelessGuys appreciates the importance of the global environment issue of reducing carbon emissions. The Green Technology Division extends WirelessGuys' unwavering commitment and passion for development of unique energy efficient and cost effective solutions to business and residential clients. Their Santa Paula client described WirelessGuys as "A very talented and cohesive team" that helped him work out a challenge that he could not solve himself. "WirelessGuys gave me instant connectivity between my two buildings. It's almost quantitative enjoyment that I've got. We're just moving right along and who know what's going to happen in ten years; what the next great thing will be."
With the addition of the Green Technology Division to its already impressive HomeFi and iWG Divisions, WirelessGuys remains in the forefront in its ability to design, install, integrate and provide innovative systems and support to both business and residential wireless networks alike.
About WirelessGuys
WirelessGuys is a highly qualified integrator wit more than 50 years combined experience and a reseller of complete end-to-end wireless network technologies and solutions. Our areas of expertise are point-to-point wireless backhaul, point-to-multi-point wireless bridges, WiMax backhaul, Municipal WiFi, SOHO, HomeFi and Wireless mesh products for both indoor and outdoor applications WG delivers the highest level of knowledge and expertise to our commercial and residential clients with both licensed and unlicensed wireless connectivity.
Our services include: site surveys, feasibility studies, RF analysis, spectrum analysis, microwave path calculations, RF engineering and design, product sales and installation, system troubleshooting and remote access and monitoring of your wireless backhaul network. In addition, we offer cost effective preventative network health maintenance programs.
WirelessGuys' team of engineers and technicians provides a unique synergy that benefits its customers, leveraging its deep integration expertise and extensive wireless knowledge. WirelessGuys offers a global reach with a local flare. For more information call 1-800-945-3294, email admin(at)wirelessguys(dot)com or visit http://www.wirelessguys.com.
###