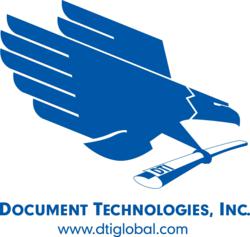 "Our focus on innovative technology solutions and strong local service set DTI apart" - DTI CEO John Davenport
Atlanta, GA (PRWEB) June 22, 2011
Document Technologies, Inc. (DTI), the nation's largest private, independent provider of legal support services and document outsourcing, announced today the company has achieved record revenue and profitability resulting from the continued growth of its electronic discovery services business. E-discovery services have seen a 187% year-over-year revenue increase, a key enabler in DTI's continued strong financial performance.
"As DTI continues to expand its share of the electronic discovery market, clients increasingly rely on DTI for their discovery services needs," said John Davenport, Jr., CEO of Document Technologies, Inc. "Our focus on innovative technology solutions and strong local service set DTI apart and are important drivers of our amazing success over the last 13 years."
To support the company's growth, DTI continues to invest in the areas of technology and infrastructure upgrades. The company recently added 200 terabytes of BlueArc storage capacity to support both recent and anticipated continued growth of client hosted data. In addition, recent upgrades to the kCura Relativity and Clearwell platforms have been completed, and DTI is on track for a June roll-out of the Nuix e-discovery platform for their technology center in Seattle.
DTI is also investing in human capital. The company recently added industry experts to further support clients in the areas of litigation consulting, solution architecture and project management, as well as several leadership positions including Director of Client Services in Atlanta and Director of Operations in Seattle.
In late 2010, DTI acquired e-discovery pioneer Daticon EED and L.A.-based Unlimited Discovery Solutions. "The successful integration of these companies has occurred even faster than we had initially hoped or planned, and they have proven to be a valuable complement to DTI's discovery services business," said DTI Vice President of Technology Services Kevin Jacobs. "In particular, the talent and expertise we've gained from these acquisitions have provided even greater industry leadership and depth to our team," he added.
About DTI
Document Technologies, Inc. (DTI) is the nation's largest independent provider of facilities management and discovery solutions, servicing clients through offices in more than 20 markets across the U.S. Headquartered in Atlanta, DTI delivers end-to-end electronic discovery solutions, including pre-litigation readiness consulting, forensics, data acquisition, processing, and an array of hosting platforms to meet a variety of litigation support needs. DTI clients include both top law firms and Fortune 500 corporations nationwide. For more information, visit http://www.DTIglobal.com.
###