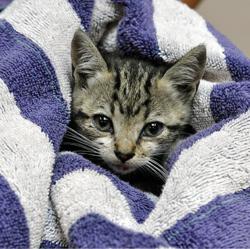 There she was hobbling along near a storm drain grate, panting in the heat.
Novato, CA (Vocus/PRWEB) June 21, 2011
An injured brown tabby kitten weighing just one pound was rescued from busy Highway 101 in San Rafael yesterday afternoon by Marin Humane Society(MHS) Animal Services Officer Andy O'Brien. MHS was alerted about the animal in danger by a concerned motorist. Officer O'Brien responded to the call around 1pm Monday and found the kitten hobbling along the merge from Highway 580 to 101 North.
"I couldn't believe what I saw," says O'Brien. "There she was hobbling along near a storm drain grate, panting in the heat. I quickly scooped her up and drove her to the nearby emergency veterinary hospital with my truck air conditioning on full blast. Once she was determined stable, I brought her back to the Marin Humane Society for a thorough evaluation."
Andee, named after her rescuer, has gained .2lbs over the last 24 hours. Along with dehydration and some cuts and scrapes, she has sustained a fractured leg. Not completely out of the woods, Andee is being monitored closely in the MHS Veterinary Clinic. "She has a long road of rehabilitation ahead, but we are optimistic that she will make a full recovery," says Belinda Evans, MHS Director of Shelter Medicine.
The Marin Humane Society offers refuge, rehabilitation, and support services to more than 10,000 domestic animals and wildlife each year through a myriad of community services, including adoptions, foster care, behavior and training, humane education, pet assistance for people in need, lost-and-found pet services, low-cost clinics, and more. In addition to our role as non-profit animal shelter, MHS is responsible for upholding county and municipal animal services ordinances through a Joint Powers Agreement contract with the County of Marin. Visit MarinHumaneSociety.org.
###