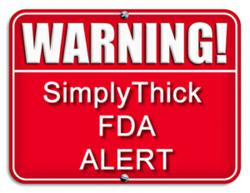 These children have done nothing to deserve the pain that they are having to endure.
Houston, TX (PRWEB) June 22, 2011
The recall follows FDA reports of premature infants developing NEC after ingesting Simply Thick products.
On June 4, 2011 Simply Thick, LCC announced a recall of SimplyThick® thickening gel products that were manufactured at Thermo Pac, LLC's food processing plant in Stone Mountain, Georgia. The recall occurred after the company was advised by the U.S. Food and Drug Administration (FDA) of Thermo Pac's failure to file for a routine process that ensures that harmful bacteria are destroyed during the manufacturing process. More info at http://www.shraderlaw.com/simplythick-recall-advisory.
Shrader & Associates, a leading national law firm with experience in product recall cases, has its attorneys working tirelessly to investigate the details of the recall, which affects all Simply Thick products manufactured at the Stone Mountain plant since June 1, 2009.
"It is very important that families with infants who are using this product stop doing so immediately," said attorney Justin Shrader. "Given the vulnerability of the users of this product, families deserve to feel 100% safe."
Simply Thick's recall connection to necrotizing enterocolitis (NEC) stems from an FDA report that links at least 15 premature infants who had developed the life-threatening condition after ingesting milk thickened with Simply Thick products. NEC is a potentially fatal disorder that causes the inflammation and death of intestinal tissue. Premature infants with NEC are subject to a variety of symptoms including body temperature issues, breathing problems, diarrhea or bloody stools, discoloration of the belly, distended abdomen, green vomit, lethargy, and a slower heart rate.
Prior to issuing the recall, Simply Thick advised consumers and medical professionals to follow the FDA's warning by stopping the use of Simply Thick thickening products in the feeding of infants born prematurely before 37 weeks gestation who are currently receiving hospital care or have been discharged from a medical facility within the past 30 days. This advisory, issued in May, applies to all Simply Thick products, including those not affected by the current recall.
Attorneys at Shrader & Associates are continuing to investigate Simply Thick and this recall on behalf of clients whose loved ones have died or have developed NEC and have required surgical treatments on their intestines following the consumption of Simply Thick.
"Right now, families are scared about the damage this product has done to their infants," said Justin Shrader. "These children have done nothing to deserve the pain that they are having to endure."
To learn more about the Simply Thick recall and the work of Shrader & Associates, visit http://www.shraderlaw.com/simplythick-lawsuit-consultation or contact Shrader & Associates at http://www.shraderlaw.com/contact-us.
###