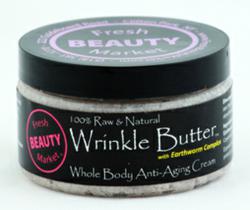 Earthworm castings contain more anti-aging peptides and enzymes than the most expensive wrinkle serums.
Clifton Park, NY (PRWEB) June 22, 2011
Strange as it sounds, the latest breakthrough in skin care might come from the bowels of earthworms. Known as Worm Castings, earthworm excrement is filled with peptides and enzymes that are clinically proven to repair damaged skin. Earthworm powder (made from dried worms), is already being used to extract cancer fighting enzymes for drug development. And organic farmers have been reporting relief from psoriasis and eczema after exposure to Worm Tea, a popular plant food made from worm castings and water. Now GSC Products has released the world's first anti-aging cream using an exclusive extract made from earthworm castings.
Wrinkle Butter is part of the new Fresh Beauty Market brand, a line that also includes Cellulite Butter, Burn Butter, Pain Butter and DMAE Facial Cleanser. According to the manufacturer, their new Wrinkle Butter contains a higher concentration of anti-aging compounds than the most expensive creams and serums. Earthworm castings are rich in copper peptides, humates, auxins, kinetins and cytokinins that stimulate healthy cell growth, collagen production, firming of skin, hydration and uptake of nutrients - while fighting free radicals.
Organic farmers already know earthworm castings make plants grow larger and faster by promoting healthy stem cells and extending the life cycle with an arsenal of anti-aging enzymes. According to Wayne Perry, Head of Development for GSC Products, those same compounds produce similar anti-aging effects on human skin.
"After studying reports from organic farmers about the miraculous skin benefits of worm tea, we began developing a casting extract specifically for skin care and it really works. There's no strange smell or anything like that. We make a proprietary earthworm extract that's blended into a sterilized tincture. We add Green tea, Cayenne, MSM, Caffeine, Hyaluronic acid and Vegetable Glycerin. The final cream is blended with a natural organic base of Mango butter, Shea butter and Cocoa butter. It immediately makes skin firmer, softer and much more elastic. Customers have also reported relief from psoriasis and eczema symptoms as well," says Perry.
For more information, visit FreshBeautySkincare.com. Samples are available for qualified media and medical personnel upon request.
About GSC Products, LLC: The company is best known for developing the world's first capsaicin (hot pepper) anti-itch products in 2009 under their Greensations brand. GSC Products was founded by Wayne Perry, inventor of Sinus Buster, the world's first hot capsaicin nasal spray.
###