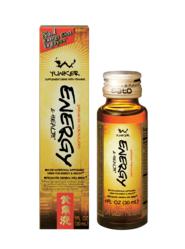 Torrance, CA (PRWEB) June 23, 2011
Japan's recent earthquake failed to put a damper on the shipment and sale of Yunker Energy in the U.S., with new family members of the liquid nutritional supplements line readied for the NACDS Marketplace, a major trade show, June 25-28 in Boston.
These liquid shot-size supplements are fast becoming big sellers across the country, at such locations as CVS stores and Bartell Drugs and through Amazon.com. The appeal is to those who crave energy support, whether they are busy people who need to perform their best at work, stay active in sports, or want to take a more healthy supplement anywhere, anytime fatigue takes its toll.
Yunker Energy, created by Sato Pharmaceutical, the company that pioneered liquid supplements in Japan, is striving to become the presumptive king of shot-size category. It's all come together for the company through a distinctive imprinted outer package, the pleasant peppery taste, and the nutritional ingredients.
Best of all, for those who want to keep awake, or need a boost of energy, they can now do it without caffeine. Yunker Energy is a nutritional supplement that provides energy and health benefits in a healthier form through a blend of choice herbs and vitamins.
According to southern California-based Walter Morimoto, sales manager at Sato, "Our company philosophy is embodied in Yunker Energy: a desire to make a more natural anti-aging product that invigorates the body's metabolism and increases blood flow while supporting the immune system."
Instead of relying on added caffeine as a stimulant, the enjoyable and convenient shot-size Yunker Energy liquid supplement contains a proven assortment of vitamins and eastern and western herbal ingredients, such as Oriental Ginseng, Royal Jelly, English Hawthorn Extract, Epimedium (Leaf) Fluid Extract and Cnidium (Fruit) Fluid Extract.
Designed to be taken any time, once per day or more often, the 30ml (1.06oz.) bottle of Yunker Energy has a suggested retail price of $3.99.
The history of Yunker liquid supplements, which now features almost a dozen different variations and labels sold around the world, began in 1956 when it was initially produced in tablet form. Soon after, as a liquid supplement, Yunker became a staple in many households around the world and was popularized through humorous TV commercials.
For further product information, visit http://www.yunkerenergy.com.
Sato will be exhibiting in booth 1041 in the Boston Convention Center, June 25-28, during the National Association of Chain Drug Show's Marketplace.
###