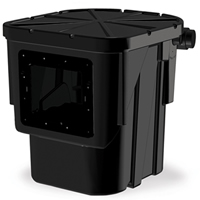 We are continually striving to offer quality pond supply products with great prices to benefit our customers
Independence, MO (PRWEB) June 28, 2011
KoiPondFever.com has increased their product line on pond skimmers to meet virtually any koi pond or water garden application. Whether customers have a small water garden up to a mega-pond, KoiPondFever.com carries high quality pond skimmers at affordable prices. All their skimmers include free shipping! This is an incredible value since some of these skimmers are large enough they have to be shipped by freight truck. The three main brands offered are Savio, Atlantic Water Gardens and EasyPro. KoiPondFever.com carries a complete line of replacement parts and accessories for all their skimmers.
Atlantic has the new Oasis Series skimmer and matching waterfall filter. Atlantic's new Oasis brand offers the perfect balance of features and performance for professional contractors or the advanced Do-It-Yourselfer. Oasis Series has exceptional strength and durability like Atlantic's professional line in a compact consumer size for smaller installations. Atlantic has also introduces new for 2011 faux rock lids for their skimmers with more realistic textures and colors. KoiPondFever.com offers these lids in 2 colors to match existing rocks for a more realistic and natural design. EasyPro Pond Skimmers are known for their large separate pumps chamber with plenty of room to house large pumps and to service the pump. They also have the largest debris net of any skimmer on the market. The Savio Pond skimmers are well known for their ease of servicing the filter and the unique add-on UVinx, a UV sterilizer that mounts in the skimmer to kill free floating algae. The Savio Skimmer Filter and Compact Skimmer are available with different size face plate weirs to accommodate different pump flows for maximum skimming.
"We are continually striving to offer quality pond supply products with great prices to benefit our customers", states RC Moore, owner of KoiPondFever.com. These pond skimmers are from well known manufacturers with proven track records of producing high quality durable pond supply products. Whether building a new koi pond or water garden, maintaining an existing skimmer, or adding accessories, KoiPondFever.com is the place to shop on line for pond skimmers. Most orders ship the same day and the service and advice is exceptional.
###