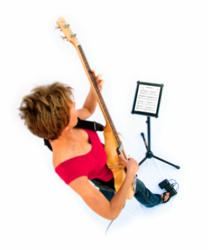 Boulder, CO (PRWEB) June 23, 2011
Leading internet-based sheet music store Musicnotes.com has added support for the BT-105 hands-free page turner from AirTurn within their Musicnotes Sheet Music Viewer iPad app. With Musicnotes, musicians can easily and legally purchase and instantly download digital sheet music and guitar tablatures from leading publishers of rock, pop, worship, and classical genres. Songs can be transposed on the fly within the app and marked up with text, ink, and highlighters in various colors. With the AirTurn BT-105 Bluetooth page turning pedal system, pages viewed within the Musicnotes Sheet Music Viewer iPad app can be turned without the need to touch or swipe the screen, enabling musicians to keep their hands on their instrument and their focus on the music. Multiple songs can be compiled into set lists, and turning the last page of one song will automatically open the first page of the next song on the list.
The AirTurn BT-105 connects wirelessly to the iPad via Bluetooth 2.1 + EDR, and comes with 2 ATFS-2 silent foot switches, designed to be the quietest of its kind in the consumer market. The AirTurn BT-105 also features the ability to toggle the iPad's Virtual Keyboard, allowing for text entry within the Musicnotes Sheet Music Viewer iPad app. Both the AirTurn BT-105 and the ATFS-2 are manufactured in the U.S.A.
The latest version of Musicnotes Sheet Music Viewer iPad app also features a brand new Conductor mode, which allows a master iPad user to select songs, turn pages, and share annotations on multiple slave iPads simultaneously. Conductor mode will allow bands and larger ensembles to literally stay on the same page, with shared ink and text annotations making rehearsals and performance cues much more efficient.
Musicnotes, Inc. offers an online catalog of 100,000 digital sheet music titles, built on the strength of content agreements with Alfred Publishing, Universal Music Publishing Group, EMI Music Publishing, Faber Music Ltd, Sony/ATV Publishing, Disney Music Publishing, Cherry Lane Music Company, Peermusic, Word Music, EMI Christian, Bug Music and many others. Musicnotes is featured in Internet Retailer Magazine's list of the Top 500 Online Retailers and is one of the Top 50 American Music Products Retailers according to Music Trades Magazine.
AirTurn, Inc., a Boulder, Colorado based company, creates and markets technologies to enhance the study, practice and performance of music. Airturn was formed in 2008. It's latest product, the BT-105 Bluetooth page turner for Bluetooth-equipped Mac, PC, and iPad computers, has been featured in ZDNet, Wired, Engadget, Crunchgear, CNet Asia, and, USAToday.
###