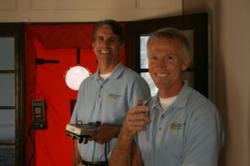 Greensboro, NC (PRWEB) June 22, 2011
Environmental Solutions Group, a Greensboro-based provider of environmental, energy and water-use analysis services, was recently named one of the Top 300 Small Businesses of the South by Business Leader Media.
The annual competition accepted nominations for the best small businesses in the Triad region of North Carolina and eight additional Southern regions – Nashville, Charlotte, Jacksonville, Atlanta, Miami, Triangle Region of North Carolina, Nashville and Memphis. To qualify, companies must employ fewer than 100 employees, generate a significant portion of its business locally, and have been in business for five or more years.
The 2011 winners were chosen based on three main categories: revenue growth, business achievement, and community achievement. For revenue growth, Business Leader looked at both one- and five-year revenue growth. Business achievement included the number of years in business, the number of current employees, the company's impact on its local economy and industry-specific honors and awards the nominated companies have received in the past.
Environmental Solutions Group was honored with Leadership in Housing Awards in 2010 and 2011 by the United States Environmental Protection Agency for its work in promoting energy-efficient housing. It was also named among the Top 100 Small Businesses in North Carolina in 2009 and 2010 by Business Leader Media.
"We are honored to be recognized as one the top small businesses in the South," said Craig Whittaker, President of Environmental Solutions Group. "We are committed to providing excellent service to our clients, and believe our dedication to them is reflected through this recognition. I'd like to thank our clients and Business Leader for this honor."
About Environmental Solutions Group
Environmental Solutions Group is an award-winning firm that has been providing environmental and energy analysis services to schools, commercial, healthcare and residential environments since 2000. The firm is licensed by the EPA as a WaterSense provider and by RESNET as a Home Energy Rating System Provider. In July 2010, the firm launched its Carbon Footprint Certification Program, which is intended to lessen climate change and increase an organization's sustainability by encouraging good practice in carbon measurement, management and reduction. For more information, visit http://www.esgtesting.com.
About Business Leader Media
Since 1989, Business Leader Media has focused on providing regional business profiles, business news, leader profiles, and best practices to C-level executives and business owners. Business Leader Media develops magazines, websites, e-newsletters and events that support the critical local market information needs of business leaders.
###