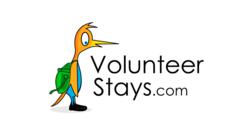 See the World, Live like a Local!
Canmore, Alberta (PRWEB) June 22, 2011
As founder Adele Frizzell explains, "Volunteerstays.com is a site for people who love to travel and want to experience new cultures and ways of life by doing work exchanges with hosts in different countries. A bit of honest work in return for food and shelter and a friendly local experience is what the website is all about."
Frizzell says the inspiration for Volunteer Stays came from her latest backpacking trip, which took her through Europe, the Middle East and North Africa. "For me, the best vacation memories are ones that involve a connection to people and I think a lot of travellers feel the same way. That's the whole spirit behind Volunteer Stays - to connect people from around the world for cultural exchanges."
Why join? "To see the world. To live like a local. To learn a language. To make new friends or acquire a new skill. To do something meaningful on your next holiday, and make your travel dollars go further. Who knows? You could find yourself working on a horse ranch in Canada, crewing on a sailboat in Australia or running a surf hostel in Costa Rica....our international stays are going to need volunteers for all kinds of jobs."
Volunteerstays.com opens registration on June 23, 2011. A free one-year membership is being offered to new stays and volunteers during the beta launch of the site.
# # #