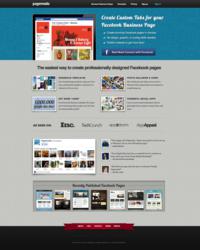 "Pagemodo 2.0 is a major leap forward in business marketing on Facebook," says Thomas Kjeldgaard, Pagemodo co-founder. "It has everything our customers and the business community on Facebook have been looking for in custom page creation."
Silver Spring, MD (PRWEB) June 27, 2011
Pagemodo, (http://pagemodo.com) the popular, do-it-yourself solution for making custom Facebook pages for business, today launched its latest version. Pagemodo 2.0 enables users to create fresh, stylish custom Facebook pages that convert visitors into fans and help them grow their businesses.
"Pagemodo 2.0 is a major leap forward in business marketing on Facebook," says Thomas Kjeldgaard, Pagemodo co-founder. "It has everything our customers and the business community on Facebook have been looking for in custom page creation."
The new version was created to make it even easier for users to create stunning, feature-rich custom tabs for Facebook business pages. Thanks to an upgraded, more intuitive interface, it is now amazingly simple for users to make a custom Facebook page that tells their business's story and engages customers.
Over 200,000 businesses have already signed up with Pagemodo and over 3.4 million visitors interact with a Facebook page powered by Pagemodo each month.
The new features of Pagemodo 2.0 include:
User-Customized Templates
Pagemodo 2.0 users can now choose from more templates and layouts than ever before. The new templates, which were created by professional award-winning designers, also have more flexibility thanks to customization options such as changing colors, fonts, images, and more to match any brand.
"Like" Gates
Pagemodo users can enable a "like" gate feature on any page, requiring visitors to "like" the page in order to access special content, such as coupons, videos, and maps. This powerful social feature dramatically helps a business grow its fan base.
Video Page
Video templates help users upload video content quickly and efficiently. Users can provide tips or tutorials, and share interviews with company executives and satisfied customers. The "like" gate feature is available with these templates, and a Facebook comment box can be incorporated. There's also room on the video tab for text, photos, maps and the company's Twitter feed.
Fan Coupons
Professional fan-only coupons can be created using Pagemodo, with room for custom content like text, photos, and Twitter feed integration. By using the "like" gate to make this feature available only to fans of the Facebook business page, page fans will grow increasingly loyal to the brand. The Pagemodo app is the simplest way to use coupons on Facebook for business.
Maps & Location
Using Pagemodo's map & location tab, businesses can turn online visitors into real-life customers with a detailed map of their brick-and-mortar location. This tab prominently displays the business's address beside a big, interactive Google map pinpointing its location. Custom content, like business hours, photos, and a link to a website, can be added in a few easy clicks.
Twitter Feed
This easy-to-use app brings a Twitter feed to a business Facebook page. Pagemodo enables customers to integrate their Twitter feeds into their Facebook business pages to engage current Twitter followers, gain new ones, and add fresh content.
Contact Form
Businesses can create an embedded contact form using Pagemodo so that fans can reach them with questions and comments. This form makes a business more accessible to its customers and fans, and is an easy way to collect new leads to follow up with and turn into customers.
Pagemodo is offered completely free of charge with optional upgrades for access to the full set of Pro features. To use Pagemodo 2.0, go to http://www.pagemodo.com today.
About Webs, Inc.
Webs (http://webs.com) is the world's largest do-it-yourself solution to create a free website, serving over 40 million users. Webs enables small businesses and entrepreneurs to easily make a great-looking website and project a professional image. The Webs family of products—including Webs, ContactMe, and Pagemodo—provide small businesses with simple and cost-effective ways to launch and grow their companies across web, social, and mobile platforms. Founded in 2001 by the Mokhtarzada brothers, Webs is funded by Novak Biddle Venture Partners and Columbia Capital. For more information, contact Chuck Hester at hester@webs.com or visit http://www.Webs.com, http://www.ContactMe.com and http://www.Pagemodo.com to sign up for free today.
###