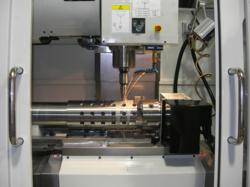 Success is that old ABC- ability, breaks and courage.
- Charles Luckman
Independence, MO (PRWEB) June 28, 2011
Lindsay Machine Works, Inc. has just received its 11th piece of CNC equipment. With a focus on precision machining of short production runs, LMW operates in a 17,000 square foot facility at Highways 291 & 210 in Independence, a Kansas City suburb. Expansion has included the addition of five full time employees in 2011. (http://www.lindsaymachineworks.com)
Specializing in precision machining of custom manufactured parts – CNC and conventional, the addition of a Hurco VM10 claims a small footprint but a large work cube of 26" x 16" x 20". According to owner Mike Lindsay, Hurco's Vertical Machining Centers are designed to "increase productivity with features that reduce programming time and manual process steps, positively impacting our customers' bottom line costs."
While some companies experienced the economic downturn affecting U.S. manufacturing the past few years, Lindsay Machine Works quietly and steadily continued to grow by servicing their customers with swift turnaround, superior workmanship and competitive pricing. Lindsay states "Understanding our customer's urgency and being responsive, has greatly contributed to the growth we're experiencing today."
In addition to CNC turning, they offer large capacity 4 & 5-axis CNC milling. Their large conventional lathes handle up to 39" x 120" while their vertical Turret lathe can handle parts up to 57" O.D. They offer surface grinding, heavy milling (travels up to 96" long) and large horizontal boring. LMW's full service welding department includes Tig, Mig and stick welding. One of their core services, emergency repair, continues to be in high demand.
Forging strategic alliances with like-minded firms, Lindsay Machine Works offers turnkey solutions to their customers- managing projects from start to finish. If the job calls for an operation outside their area of expertise, LMW sources the operation to fulfill their customer's requirements. LMW is featured in the May issue of Mid-America Commerce & Industry Magazine http://www.maci-mag.com/Archive/index.html
Serving customers in a variety of industries including transportation, medical, food processing, construction, defense, plant operations, environmental, wastewater treatment solutions, publishing and more, LMW is expanding their reputation as a manufacturer of custom parts.
Mike and Susanna Lindsay foster a team environment and enjoy rewarding outstanding performance. This core business philosophy has resulted in a cohesive group who share the company's mission of responsiveness and of providing outstanding value. Their highly skilled machinists have combined industry experience of over 100 years.
2010's investment of a state-of-the-art Starrett Galileo AV350 QC5000 CNC Vision and Probe Inspection System significantly raised the standard of their quality assurance program. Additional investments in software, web development and production equipment are planned for 2011.
Founded in 1996, Lindsay Machine Works began in a 4000 sq. foot facility in Richmond, Missouri, with a modest number of conventional machines. Heavily concentrated in machining and repair for construction-related customers their ability to work on very large parts kept them busy in the early days. Later, as the precision machining and custom manufacturing end of their business grew, it became evident that they needed more space and greater technology. With their move to the Independence facility and their continual investment in CNC equipment, they're able to offer very close tolerance and expand into other markets. Owning the land around the shop, they're well situated for further expansion. To learn more about the company, please visit their website at http://www.LindsayMachineWorks.com. For information or inquiries please contact Terry Hale 816-257-1166 or 888-404-4058. You can view LMW's YouTube video http://www.youtube.com/watch?v=zfKcAzzAeik
About Lindsay Machine Works
Lindsay Machine Works specializes in precision machining and short production runs of custom manufactured parts and components-conventional and 3, 4 and 5-axis CNC. They also offer emergency OEM repair and Tig, Mig and stick welding services.
###