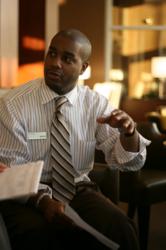 Baltimore, MD (PRWEB) June 23, 2011
LTD Hospitality Group is pleased to announce the promotion of Ed Evans to its new Corporate Director of Food and Beverage position. In this role, Evans will be responsible for the development, personnel management, and financial operations for all LTD managed food and beverage venues in the hotel portfolio.
Evans has been the Director of Food and Beverage at the award winning Westin BWI Airport since the hotel opened in 2007. Prior to joining LTD, Mr. Evans has held Executive Chef positions for premier restaurants such as Red Sage, Papa Razzi, Gordon Biersch Breweries and Pisces Restaurants. He is a frequent contributor to local Maryland newspapers and has appeared on Fox 5, WBAL, WJZ, Fishin Kitchen and BET. Mr. Evans is also active in his community by bringing his love of food and cooking to inner city youth. "I look forward to my new role and am excited to contribute to the successful best practices of food & beverage operations at LTD hotels," Evans said.
"The appointment of Ed Evans as our corporate director of Food & Beverage demonstrates LTD's continued pursuit to be a best-in-class hotel operator," said Neel Desai, managing principal. "Ed is an exceptional chef, who also excels in the financial and procedural oversight on driving overall profitable food & beverage operations. We have built an exceptional executive and operating team in the LTD organization and I have the utmost confidence that our team will lead LTD hotels to continue to maximize their fullest potential," added Desai.
About LTD Hospitality Group, L.L.C
Founded in 1983, - LTD Hospitality Group is an organization comprised of several key strategic business units including Asset Management, Hospitality Management, and Development that specialize in the lodging and hospitality real estate sector. LTD's overarching mission is to be the most respected hospitality organization in the United States, as measured by the value created by delivering first class service to each of our associates, our guests, and our partners (including investors, franchisors, and lending institutions).
Through its private Asset Management Division, LTD has invested approximately over $200 million in the lodging sector. LTD's Management Division is the organization's award winning operating arm. This division currently manages more than 3,600 hotel rooms throughout the United States, which are affiliated with Marriott, Hyatt, Starwood, Intercontinental Hotels Group, and Hilton. LTD's Development Division has completed over $800 million of hospitality and mixed use projects. For more information, please visit http://www.ltdhospitality.com.
###