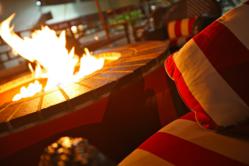 In one sense, the Summer Sweepstakes is just a nice way to say thank you to our guests.
(PRWEB) June 23, 2011
Summer in California usually means families piling into their cars and hitting the dusty Interstate in search of fresh things to do and new places to see. Portola Hotel & Spa in Monterey, CA is offering vacationers an incentive to hit the road by announcing its grand summer sweepstakes. From June 22nd to July 21st summer travelers living both in-state and out can take advantage of the fact that Portola is handing out a brand-new incentive every day of the week to Internet participants.
Incentives run from the small (a freshly-baked plate of a dozen cookies that the Hotel makes from scratch), to complimentary tickets to the world-famous Monterey Aquarium), to a free upgrade to one of the hotel's Harbor View rooms. On the final day, a grand prize is drawn from all who've entered the sweepstakes. The prize? Two nights' free stay at Portola Hotel & Spa including breakfast for two. Contestants only have to fill out online forms, and then they have a shot at winning a prize from one of Monterey's most exclusive hotels and spas. Each contestant can fill out one new form each day.
Summer Sweepstakes Daily Prizes Include:

Complimentary dinner for two at our restaurant, Jack's
Complimentary lunch for two at Peter B's Brewpub
Free upgrade to one of our luxurious Harbor View rooms
$50 gift card to our very own Spa on the Plaza
Two complimentary adult tickets to the Monterey Bay Aquarium
Complimentary day of kayaking/bike rental
A plate of a dozen homemade chocolate-chip cookies
The Grand Prize: 2 nights' free stay at hotel and spa with free breakfast
The person who forwards the sweepstakes to the most friends wins a total of one night's free stay at Portola Hotel & Spa including breakfast for two.
"In one sense, the Summer Sweepstakes is just a nice way to say thank you to our guests," said Sunday Spencer, director of Sales and Marketing. "But in another way it's a good means of allowing visitors to afford some of the finer things we offer, like Peter B's, our brew-pub, the only certified craft brewery in Monterey."
For more information and to sign up now, visit the Portola Hotel & Spa sweepstakes website.
About Portola Hotel & Spa:
Portola Hotel & Spa is located in historic Monterey overlooking the Monterey Bay and the beautiful peninsula shoreline. The hotel is adjacent to Monterey Conference Center, Fisherman's Wharf and the Marina, and is a short walk from historic Cannery Row and the world-renowned Monterey Bay Aquarium. Carmel, Pebble Beach, Pacific Grove and Monterey Airport are each just a five-minute drive from the hotel. With spacious accommodations, exceptional service and a wealth of amenities such as spa facilities, onsite dining, fitness center, a pool & Jacuzzi, and access to the area's best attractions, Portola Hotel & Spa is a superior choice for exciting vacations. Corporate travelers will also enjoy flexible event space and 24-hour business center.
###