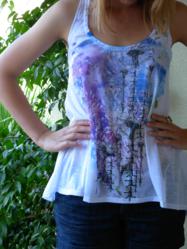 "The goal of demand manufacturing is to shorten the supply chain that allows retailers to operate on a real time basis and matches orders to sales"
Upland, CA (PRWEB) June 23, 2011
A new demand manufacturing technology has created a new profit option for domestic apparel retailers and brands. Instead of depending on cheap labor from overseas manufacturers, retailers and apparel manufacturers can use this new short run demand activated coloring and printing technology. "New permanent coloration technology allows us to "change on the fly" and produce only the units that are actually selling," stated Mark Robinson of Katmandu Partners LLC. Bringing this new demand activated color technology called Kinetic Colorization™ (very advanced form of sublimation) to the California apparel and fabric markets and was invented by Critical Mass.
Robinson goes on to explain, "Brands and retailers take huge risks if they manufacture their high profit specialty items overseas. These products usually have unique performance or visual features that front load costs. Mass manufacturing to lower cost creates too much inventory risk to offer these high profit garments and accessories."
With very low minimum order limits and flexible "style contracts" Katmandu has a solved the dye, print and imprint forecasting risk and color matching that have limited some company's ability to design and offer products that visually separate them from their competitors.
"We are working with surf companies, active wear apparel companies, outdoor backpack companies as well as some of the specialty mills and the military with regards to coloring their fabrics. Fabrics colored include many of the Cordura® nylons and ripstop nylons' colored both single and double sided," stated Brian Henry from Katmandu.
The goal of "Demand Manufacturing" is to shorten the supply chain to a response time that allows retailers to operate on a real time basis and project orders to match sales. Currently thousands of garments and accessories go unsold and the cost of these products must be added to the cost of the price of sold goods. The key to profits is not to make goods based on forecast but rather make the on consumer demand. The paint industry learned this lesson and now instead of stocking a vast array of colors, paints are colored in the store on consumer demand.
This new technology is poised to bring back textile coloring and more apparel manufacturing to California. With smaller runs being possible prior to large scale production and with the ability to test color, designers have a great deal more flexibility.
Kinetic Colorization technology is a revolutionary approach to permanent dying and printing. This process triggers the energy stored in high tech fabrics to create micro tunnels which move the dye through the center of the fiber without using water or toxic chemistry. Through the use of proprietary equipment both pass through color or pattern print coloration is possible. The process allows for a high degree of dyeing control, even thin fabrics can be dyed with different colors or pattern prints on opposite sides and the process uses no water.
The process leaves no toxic chemical residue to wash out and preserves the performance features of the garment so they are perfectly suited for the high performance active wear markets. Kinetic Coloration TM can even colorize NYLON with out special nylon dyes. Since the color is permanently trapped below the fabric surface the garment can be washed using bleach or with other colors at no risk of fade and is highly resistant to abrasion. Fabrics colorized through this process demonstrate vibrant color, superior wash fade resistance, and wear durability suitable even for military applications.
Kinetic Colorization™ provides designers with an avenue for their products to be customized in an easy and innovative way and therefore increases the range of products that can be offered. Some of these include fully reversible single ply garments, and double sided garments for accenting with colors and patterns.
It's not commonly known, but traditional fabric colorization processes use millions of gallons of water and myriad chemicals, including; plastisol inks, acids, salts, and other toxins, which are released into to our eco system. Fabrics colorized with Kinetic Colorization™ meets the highest environmentally standards. Products being produced with this process include apparel, home décor, POP signage, and many military fabrics.
"Kinetic Colorization™ is a replacement for both traditional wet printing and chemical dye processes. Using energy multipliers, Kinetic Colorization™ vastly improves the energy conservation, product differentiation, and economics of traditional wet printing" stated Mark Robinson from Katmandu.
Much of the news you read isn't good with respect to bringing manufacturing back into the United States from foreign countries. In the past, high labor costs, high taxes, and the cost of environmental regulations were major deterrents to U.S. companies wanting to manufacture in the United States. The current global picture is changing however. Increasing foreign labor costs, the global impact of massive unregulated foreign pollution, and a greater sense of environmental responsibility are making the decision for U.S. companies looking to manufacture here at home much easier. Additionally, manufacturing in the U.S. decreases the length of the supply chain and inventory pipeline, decreases the potential for over stocking, and ultimately saves cost.
A recent Moody's Analytics report noted that if consumers spent an extra 1% on U.S. goods, it would create 200,000 jobs. Can the United States become a manufacturing powerhouse again? As the cost of doing business rises in traditionally low-cost countries, particularly China, companies are rethinking their offshore plans. Kinetic Colorization TM represents a real opportunity to bring fabric dyeing back to the United States and with that a great deal of local apparel opportunities.
Another distinct advantage to Kinetic Colorization is that it is suited for both short and long run production. In the fashion and active wear apparel industries, timing to market is key to staying ahead of the trends and therefore staying competitive. This new technology allows change on the fly production and color, which in turn allows the customer to sample many variations of the basic styles, without the high costs of "sample production". With Kinetic Colorization™, an initial run small enough to gage consumer demand is possible before our customers commit to large production runs necessary to service volume market demand. Kinetic Colorization allows you to get your product to consumer promptly without over stocking.
# # #