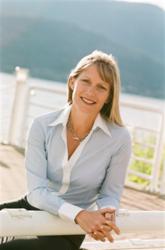 The most efficient, transparent and effective way to manage investments is to use a homogenous core with unique allocation for each account.
Kelowna, BC (PRWEB) June 24, 2011
Coreen Sol, CFA, lead portfolio manager for the Solinvest Private Portfolio has done it again. After beating the Toronto Stock Exchange Benchmark Index for the last few years, Solinvest Private Portfolio is up 8.24% Year To Date, net of all management expenses. That is compared to the S&P/TSX return of 3.6% over that same period. Previous years have produced returns of 25.4% and 37.1%, results which are 7% and 8% above the Benchmark Index.
"My investment model doesn't just look at growing earnings but compares each company's growth patterns to previous market cycles and peer expectations. It is an analytic horse race to me."
Coreen maintains her investment practice out of the National Bank Financial Wealth Management office in Kelowna, British Columbia, but she personally engages with clients across the country and internationally. Coreen delivers a unique investment model where clients have direct access to a professional portfolio manager but can still enjoy the personal relationship with the steward managing their wealth.
"I developed a retail investment practice where, as a discretionary portfolio manager, I design investment portfolios for each account but the core investment strategies are homogenous. It is the most efficient, accessible, transparent and cost effective way to manage money that my analytical brain could come up with."
Coreen has been managing investments since 1992. To find out more about the Solinvest Private Portfolio visit http://www.solinvest.ca
I have prepared this commentary to give you my thoughts on various investment alternatives and considerations which may be relevant to your portfolio. This commentary reflects my opinions alone, and may not reflect the views of National Bank Financial Group. In expressing these opinions, I bring my best judgment and professional experience from the perspective of someone who surveys a broad range of investments. Therefore, this report should be viewed as a reflection of my informed opinions rather than analyses produced by the Research Department of National Bank Financial.
The securities or sectors mentioned on this website are not suitable for all types of investors and should not be considered as recommendations. Please consult your investment advisor to verify whether this security or sector is suitable for you and to obtain complete information, including the main risk factors. Some of the securities mentioned in this letter may not be monitored by the analysts at National Bank Financial.
The particulars contained herein were obtained from sources we believe to be reliable, but are not guaranteed by us and may be incomplete. The opinions expressed are based upon our analysis and interpretation of these particulars and are not to be construed as a solicitation or offer to buy or sell the securities mentioned herein. The information contained herein has been prepared by Coreen T. Sol, CFA, an investment advisor with National Bank Financial.
National Bank Financial is an indirect wholly-owned subsidiary of National Bank of Canada. The National Bank of Canada is a public company listed on the Toronto Stock Exchange (NA: TSX) National Bank of Canada is a member of the Canadian Investor Protection Fund.
# # #