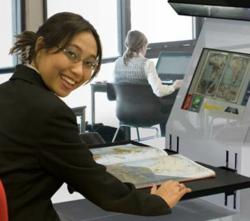 "As digital scanning becomes more and more important, we continue to focus on products and technology that serve libraries, museums and organizations of today and tomorrow." Robb Richardson, President book2net North America
Toronto, Ontario (PRWEB) June 23, 2011
Currently, Ristech offers the full line of Book2net book scanners including the Spirit; the first entry-level high-resolution scanner designed for public use, which provides a simple self-serve scanning option for busy libraries. This new software, then, includes a digitization tool for converting collections and enhancing images, improving an already successful and popular product.
"We're very pleased to launch new software that makes scanning and digitizing that much easier for busy libraries and busy patrons," said Robb Richardson, president, book2net, North American Operations. "As digital scanning becomes more and more important, we continue to focus on products and technology that serve libraries, museums and organizations of today and tomorrow."
In particular, the new Book2new Spirit software offers page splitting, so users can capture the right and left side of a book in one scan (in one second), automatically separating them and saving them as two distinct images; user selectable file formats (PDF, JPEG, TIFF as well as full color, gray scale and black and white); image saving selections (USB, email, network drive or print at the touch of a button); auto crop; finger removal (deleting any trace of fingers that were accidentally scanned from an image); zoom, rotate and image-scrolling for quality control and more.
In addition to the Book2new Spirit, Ristech also features the Book2net Kiosk, a high resolution, high-quality color scanner that provides crisp, clean scans in seconds without straining books or operating costs. Both digital scanners are energy-efficient and help libraries reduce paper waste and energy costs.
About Ristech Company
Ristech Company is a leading distributor of document management and micrographics solutions for the Canadian and U.S. markets. Formed in 1995, we have built our name on a commitment to providing companies with leading-edge technology, convenient service offerings, and the expertise and knowledge required to support these technologies. For more information, please visit http://www.ristech.ca.
About book2net Inc.
book2net Inc. is an international alliance of manufacturers, libraries and service providers that design and produce book scanning technology. With an installed base of more than 500 clients including the Library of Congress, the British Library, National Archive of Sweden and many leading academic libraries in North America, book2net develops technology from the ground up with end users at the table. For more information, visit http://www.book2net.net.
###