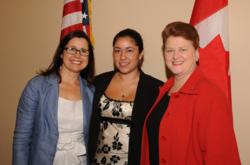 Arlington, TX (PRWEB) June 27, 2011
"I want to make the world a better place." This is what Christina Peruyera says is her life's purpose and what she hopes to get out of college. On June 16th 2011, College Admissions Assistance, LLC and the Greater Miami Chamber of Commerce, partnered to grant the 2011 Jeanne Bellamy Scholarship Award to a high-achieving and well deserving high school graduate, Christina Peruyera from New World School of the Arts.
Christina Peruyera will be attending the University of Pennsylvania's Wharton School of Business in the fall, and is excited to start a new journey in her life. Christina is a business and arts student and hopes to double major in music and business—her two passions in life.
Christina will be the first person in her family to attend college, and says "attending college was something that was decided since I was a young girl." Christina also knew at a young age that she wanted to study business saying, "I used to take the prizes from the kid's meals at McDonald's and instead of throwing them away, sell them and negotiate prices with my classmates."
Christina holds a 5.8 grade point average and feels that the support of her school, her teachers, and her parents has had a major impact on her high achievement over the years. "Going to a performing arts school, we often have 12 hour days," she says, "yet I have still found the time to contribute to my community." This high-spirited and altruistic high school graduate will use her time management skills and enthusiasm to ensure success in the college environment.
Christina is a Silver Knight nominee and the current president of Future Business Leaders of America; an organization in which she has been a member for four years. Christina is also the current vice-president of the Junior Opera Guild, where she has devoted over 350 hours during her high school career. During Christina's participation with the Junior Opera Guild, she participated in multiple fundraisers to bring awareness in her community to the cultural art of opera. She was recognized for raising over $6500.00 by herself during one fundraiser, in order to continue opera programs in the Miami area.
Being of Cuban heritage, Christina's parents immigrated to the United States to provide a better life for their family. Christina values being a role model for her younger brother, and believes her achievements allow her parents dreams to come true. Richard Peruyera, Christina's father says, "We are proud of our daughter; it is hard with Christina being the first born to let her go, but we know she is level-headed and well-prepared to transition to college."
Christina was presented with her scholarship award by Marilu Kernan, Chief marketing Officer of College Admissions Assistance, LLC and corporate member of the Greater Miami Chamber of Commerce. As Kernan states, "Christina, you will represent Miami well in Pennsylvania – an accomplished young woman of immigrant heritage, an entrepreneur, a community giver, and a believer in the arts. Well done."
CAA is a comprehensive college-planning service that has helped thousands of students prepare themselves for college—from discovering a great career, achieving admission to the right college, and enjoying the best financial start in life: http://www.caaconnect.com/what_we_do/. The company's ultimate mission is to help each student live out their unique purpose in life by getting them started with the right college education.
# # #