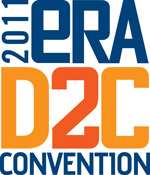 I am very pleased to see so many people participate in the crowd-sourcing process.
(PRWEB) June 22, 2011
The Electronic Retailing Association (ERA), the leading trade association for direct-to-consumer commerce, has announced the line-up for the education program to be presented at the 2011 ERA D2C Convention. The event will be held September 13-15, 2011 at the Wynn Hotel, Las Vegas.
Once again, the education program was developed using a crowd-sourcing strategy. ERA received more than 47 submissions for session and speaker ideas. These proposed presentations, case studies and panel discussions were then submitted employing a two-step voting process: the first to cull the list down to a top 25 and the second to select a top 12 for presentation at the 2011 ERA D2C Convention. Over 250 members of the direct response marketing community cast their vote for this year's conference.
"I am very pleased to see so many people participate in the crowd-sourcing process," says Julie Coons, ERA president and CEO. "It illustrates that the membership and the industry take pride in the quality of education content that is presented at ERA conferences and want to ensure the program's success."
The following sessions have been chosen for presentation:

Kids' Products Don't Sell! MYTH Obliterated - Just how are these marketers reaching the kids, youths, tweens, teens and parents? Gain insights from some of the most successful players in our industry. Speakers: Tim Hawthorne, Hawthorne Direct; Doug Fowkes, Infomercials Inc.; Denise Kovac, Your Baby Can Read; Robert Yusim, Product Counsel
The 30-Minute Multichannel Workout: Maximizing Your Revenue on the Phone and on the Web - Learn why it's important to have an integrated, multichannel approach today. Speakers: Matt Fisher, LiveOps; Babak Azad, Beachbody; Ken Mahony, Guthy-Renker; Bryan Sweeney, Dynamic TV Marketing
Just the Tip of the Iceberg: How DRTV Can Help Drive Increased Retail Sales - Some of the industry's top DRTV and retail marketers will offer best practices on how to plan for and transition a direct response success into retail success. Speakers: Dave Savage, R2C Group and Cmedia; George Fettig, Euro-Pro; Sonia Makurdsik, SRM Direct; Ron Steblea, AllStar Marketing
Introducing Mainstream Companies and Brands to Direct Response - In classic pitchman fashion, a brief overview of reasons why more mainstream brands are choosing DR. This session will focus on best practices for DR marketers to help explain the value of DR to traditional brands and retailers. Speakers: Patrick Raymond, Raymond Entertainment Direct (RED); Cindi Anderson, consultant; Karla Crawford Kerr, Hawthorne Direct; Michael Ehrman, Direct Develop
You Are What You Tweet – Understanding the legal risks in social media. Speaker: Michael Schiffer, Frankfurt Kurnit Klein & Selz PC
Creating Customer Bliss From E-Commerce, M-Commerce and Loyalty Efforts - Learn the innovative mobile solutions designed to build profitability and engagement between your brand and customers. Speakers: Kelly Passey, Access Development, Chip Fishburne, Firethorn
New Social Media Marketing Opportunities for 2012 - A look at strategies and tactics for evaluating, deploying and managing organic campaigns in Foursquare, LinkedIn, YouTube, blogger outreach, SlideShare, Quora and much more. Speaker: Michael Terpin, SocialRadius
Tools and Metrics for Developing a Truly Integrated Marketing Campaign - Understand the opportunities that are in the new digital, social and mobile channels. Learn how these different platforms can be effectively integrated into an overall marketing campaign. Speakers: Linda Goldstein, Manatt Phelps & Phillips LLP; Trygve Duryea, As Seen EVERYWHERE; Jim Brandt, VerticalSearchWorks; Maria Eden, Mercury Media; Dawn Dumont-Perdew, The DuMont Project
Use Recurring Payments to Reduce Customer Acquisition, Increase Lifetime Value - Insights into managing card updates to increase revenue. Speaker: Tom Pouliot, Litle & Co.
Patents? Trademarks? Copyrights? Why Bother! - Get a jumpstart on developing your own approach to protecting your products. Speaker: Ross Epstein, TechLaw LLP
Continuity Stick Rate: The 800-pound "Klingon" in the Room - This session will deliver best practices to implement benchmarks, upsells, cross-sells and lifetime value in order to create the link to stickiness for continuity. Speakers: Fern Lee, THOR Associates; Alex Agurcia, Omni Direct Inc.; Michaella Harkey, Order Motion; Andy Seigal, Atlantic Coast Media Group; Elliott Segal, Guthy-Renker
Transforming Your Leadership - Learn what your leadership strengths are and how to leverage them to achieve maximum effectiveness with your teams, other leaders and drive your organization to success. Speaker: Ellyn Ludden, Team Summit
For more information or to register, please visit http://www.D2Cshow.org.
About the 2011 ERA D2C Convention
The Electronic Retailing Association's 2011 ERA D2C Convention is the 21st annual show where the industry's top technology innovators, manufacturers, buyers and marketers meet to learn about the hottest trends in the direct-to-consumer marketplace and meet with partners and potential customers to seal critical business relationships. The event will feature more than 4,000 attendees and 120 exhibitors, a variety of education sessions on industry-related topics and expansive networking opportunities, as well as wide variety of events on the tradeshow floor. For more information, please visit http://www.D2Cshow.org.
About the Electronic Retailing Association
Representing a more than $350 billion market, the Electronic Retailing Association (ERA) is the only trade association in the U.S. and internationally that represents leaders of the direct-to-consumer marketplace, which includes members that maximize revenues through electronic retailing on television, online and on radio. ERA strives to protect the regulatory and legislative climate of direct response, while ensuring a favorable landscape that enhances e-retailers' ability to bring quality products and services to the consumer. ERA members include some of the industry's most prominent retail merchants, including Acorn Corporation, eBay, Discovery Communications, Gaiam, Google, Guthy-Renker Corporation, HSN, Jewelry Television, QVC, ShopNBC and Thane. For more information about ERA, please visit http://www.retailing.org.
# # #